Is it just me, or does this year's deified technology seem to have a serious drug problem?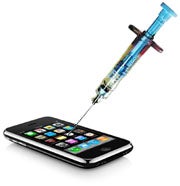 The latest heavily hyped gadget to get on the juice is the long-discussed (but thus far unconfirmed) Apple tablet. The would-be Jesus reader, in case you haven't heard, is now being described as an "iPhone on steroids."
There's a reason that metaphor sounds oddly familiar.
The Apple Tablet's Steroid Situation
This newest bit of Apple scuttlebutt comes courtesy of anonymously penned tech blog Boy Genius Report. The blog, citing a "close Apple connect[ion]," released a handful of fresh tidbits about the tablet today.
The famed Apple tablet, BGR says, has "out-of-control" multitouch gestures and an "incredibly fast" ARM CPU. It runs on the iPhone kernal, the report continues, with an internal model number of K48AP. And, as promised, the tablet is said to be "basically 'an iPhone on steroids.'"
So here's the reason you may be feeling déjà vu all over again: Just one month ago, another rumor-inciting device was described in an eerily similar fashion. The device, of course, was none other than the Nexus One.
A tweet dated December 12, well before the Nexus One announcement, stated the following:
"A friend from Google showed me the new Android 2.1 phone from HTC coming out in Jan. A sexy beast. Like an iPhone on beautifying steroids."
Granted, the Apple tablet's steroids aren't necessarily beautifying — and the gadget may or may not be a sexy beast, based on today's buzz — but seemingly, it and the Google phone share more than just the ability to whip fans into a prelaunch frenzy. (The steroids analogy may make more sense in the case of the Nexus One, though. Have you seen the size of that thing?)
Drug-related side effects aside, the uncertainty surrounding the tablet could soon come to a satisfying end. Apple is said to be planning a media event for later this month at which it'll unveil some sort of major new product. While it could very well end up being the also-rumored iSpy or iCarumba, the more serious clairvoyants are predicting it will be the "iSlate" uncloaked on that monumental day.
At least we know 2009's other high-profile tablet won't be around to steal any of the thunder.
JR Raphael is a PC World contributing editor and the co-founder of eSarcasm. Check out his new official Facebook page: facebook.com/The.JR.Raphael