McAfee and Facebook have joined forces to keep 350 million Facebook users safe from malware. But if you think this is a silver bullet to keep you safe on Facebook, think again.
There is no doubt Facebook is taking an innovative and positive step toward protecting users from malware. But I consider it only one of many steps Facebook users will need to take to protect themselves from the myriad of tricks and traps that inhabit Facebook including 419 ploys, phishing scams, and ID crooks.
First, let's go over the Facebook/McAfee deal.
How to Get Protected
The deal between Facebook and McAfee introduces two significant security steps. The first step is McAfee is offering all Facebook users a free six-month subscription to its Internet Security Suite (along with a discounted price once the six months are up). Not a bad marketing deal for McAfee.
The second part of Facebook's deal with McAfee is more interesting and innovative. Back in July Facebook created custom service that detects if your account has been compromised by a malicious third-party via a phishing attack. Now if that security trigger is set off McAfee jumps into action and will prompt you to use a free McAfee Scan and Repair program (see image below) the next time you log into your Facebook account. The assumption is, if your Facebook account has been compromised your PC may also be infected with malware.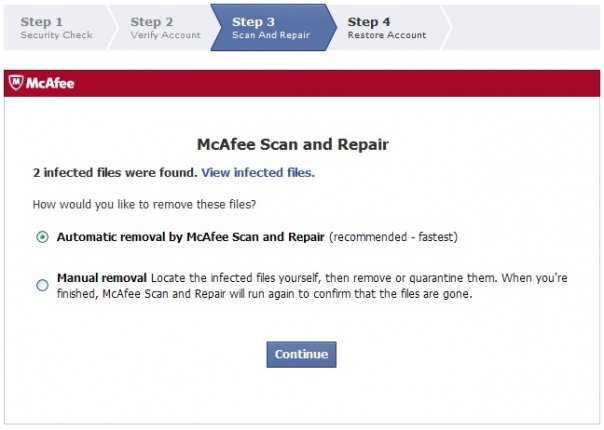 The McAfee Scan and Repair will attempt to identify and remove malicious code from your computer before you access your Facebook account.
In order to get your free six months' subscription, simply log into your Facebook account, go to the McAfee Facebook page, and click "Become a Fan." Once you are a fan, you'll be able to download the free software by going to the "Protect Your PC" tab–you will be asked to provide a credit card. Facebook says your card will not be charged until the six months is up (and you can cancel before that).
Before Handing Over Your Credit Card Number to McAfee
Both of these security steps will effectively protect you from many malware attacks, though they are not necessary if you already have an effective antivirus program (check out PC World's chart of free antivirus software) that protects against malware. Still it's great to see that McAfee is making its antivirus software available to Facebook users.
Other Facebook Tricks and Traps
While the McAfee-Facebook deal will curb malware on member PCs, it does not mean the end of Facebook dangers–not by a long shot. There are, unfortunately, many scams and schemes on Facebook (and other social networking sites) that can cost users a lot more than a virus and a few annoyed friends:
419 Scams (and similar scams): Social-networking sites, such as Facebook, are places where people are more inclined to reveal their real names and personal information about themselves. Scammers then try to weasel their way into your virtual circle of friends and harvest sensitive personal information to later use in scams to try to trick you (or your friends) out of money. For that reason don't just be weary of someone from Nigeria asking for money. Falling for a Facebook scam is how Beny Rubinstein got scammed out of $1100.
Stranger Danger: The biggest danger on social-networking sites isn't malware, it's other people. Many people use their Facebook accounts to share various facets of their personal lives (including photos, phone numbers, addresses, and place of work), without considering the possible consequences. Depending on who can access this information (and many users forget to set adequate privacy settings), this can be very dangerous.
(see related: Protect Your Privacy With the New Facebook Settings)
So, while the McAfee-Facebook deal is a good step toward protecting users from malware, it's still important for users to use common sense and protect themselves. Take steps that go beyond malware protection to ensure your Facebook profile is secure: set proper privacy restrictions, don't share phone numbers and addresses at all, and don't click on links that look sketchy.
Updated: 1/15/10 to remove info about McAfee sofware and lack of phishing protection. That software does provide anti-phishing protection, according to the company.