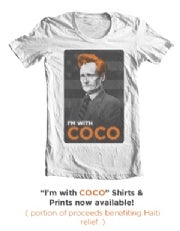 It strikes me as remarkable that Jay Leno is popular enough to bump Conan O'Brien from The Tonight Show, but I must hang out in the wrong circles.
See, on the Internet, Conan is king. He's getting love from Facebook groups and Twitter users, and has even appeared in a couple of Internet memes. Jay Leno? Not so much.
The home base for all things pro-Conan is the Web site TeamConan.com, along with the TeamConanOBrien Twitter feed. Visit TeamLeno.com, by comparison, and you're greeted with the following message: "You're seriously on Team Leno? Don't you understand comedy? Go to Team Conan."
The pro-Conan legion can also be found on social networking sites. Mashable, for instance, used online opinion tracker Crimson Hexagon and found that just 12 percent of Twitter posters don't like Conan. The rest either said they love him and not Leno, pity him, respect him or dislike NBC. Visit the Team Conan and Team Leno Facebook pages and you'll find a huge disparity: 58,683 members in the Conan camp, and just 257 people behind Leno.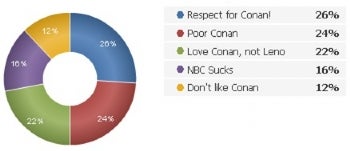 But best of all are the Internet memes. There's the shocking YouTube video footage of the moment (Warning: video contains strong language) when Adolf Hitler finds out that Conan's leaving the Tonight Show — itself a take on an existing meme from the movie "Downfall" — and the "I'm With CoCo" movement.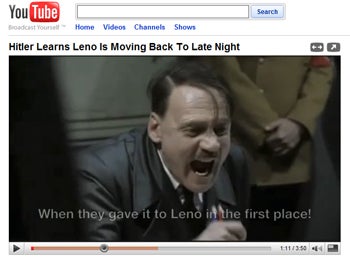 If you want to show support for Conan O'Brien, you can print out some hair, wear a Twitter Twibbon or join a boycott of the Jay Leno show (or, conversely, watch The Tonight Show). With all due respect to Jay, the Internet offers few options for couch potatoes on his side.