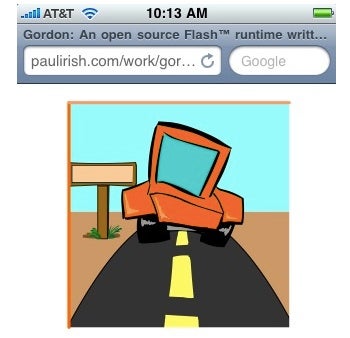 Flash has come to the iPhone–or rather, the iPhone has come to Flash–thanks to a clever addition to the Javascript Runtime Environment called Gordon and created by Tobias Schneider. While the addition doesn't require "Jailbreaking" the iPhone, it does have serious limitations.
As a JRE extension it runs natively inside the iPhone's Safari browser, however it will only work on sites that have specifically incorporated the Gordon code. Reports indicate that a static image presented in flash will peg an iPhone at 100% CPU, so it's not quite ready for browsing YouTube via Safari just yet. It does support the full feature-set of Flash, including interactivity and animation, but full-Flash sites may not be viable on mobile devices for some time.
Because Flash is a fairly resource-heavy extension, you shouldn't expect much from Flash-enabled sites, even those that use Gordon for iPhone compatibility. Flash has been a top request of iPhone owners since launch, and while Gordon may be one step closer, it also highlights the limitations of the processing power of the current iPhone versus full, native Flash support.
Also, Web site designers would have to include this JavaScript workaround in every page that includes Flash for iPhone users to be able to view the Flash file on the page.
If you have an iPhone or iPod touch, you can try Paul Irish's demos to get an idea of how well it works.
[GitHub via Wired Gadget Lab]
Follow GeekTech on Twitter (@geektech) or Facebook for your daily fill of hardware, hacks, and cutting-edge tech.