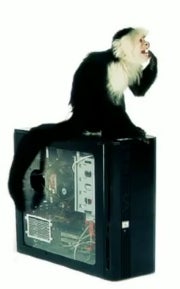 Spend too much time monkeying around with the inside of your PC? Wish you had a trained primate to install the latest and greatest graphics cards? In its latest advertisement that left us agape, ATI demonstrates via Louie the primate that its cards are so easy to install in your PC that even "a monkey can do it!" Video after the jump.
The minute-long clip shows a perplexed Louie unscrewing the case of a PC, inserting an ATI Radeon graphics card, putting the PC's case back together, then installing drivers before enjoying video games and movies on the upgraded system with a look of utmost glee.
AMD does confess that training Louie took over a month (involving showing hours of videos of hardware upgrades) and that the footage for this clip was shot in one day. While most of GeekTech's readership could probably install graphics cards in their sleep, I'm sure that an ad like this one will appeal to consumers who are scared of opening their PC's case with a screwdriver.
You too can go bananas over the latest offerings from ATI Radeon as their newest DirectX 11 graphics cards start at under $100. The question remains: next, can we get a howler monkey to install a sound card?
[Via DailyTech]
GeekTech blogger by day, astronomer by night, Alessondra takes apart laptops with a soldering iron in one hand and a multimeter in the other.