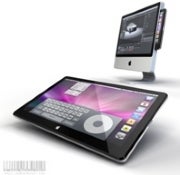 If you're tired of hearing about the mythical Apple tablet, then you'll be happy to hear a new rumor has popped up claiming Apple will launch a 22-inch touchscreen iMac later this year. The computer will be produced by Taiwan-based manufacturer Quanta, with the screens being produced by Sintek Photronic, according to DigiTimes based on an account from the Chinese language newspaper China Times.
Apple: Reach Out and Touch Me
A touchscreen iMac wouldn't be terribly surprising, since touch-based features and devices are becoming an increasing part of Apple's product lineup. The company has had a runaway success with the iPhone and iPod Touch, multitouch trackpads in MacBooks were introduced in 2008, and Apple recently brought out the touch-based Magic Mouse. If the rumors are correct, Apple may also be introducing a 10-inch touchscreen multimedia device at the end of this month.
Touch Gone Wild
But it's not just Apple that is getting into the touchscreen game; many other tech firms demonstrated touch-based devices at this year's
. Tablet devices were announced by a variety of manufacturers including Hewlett-Packard, Lenovo, Notion Ink, and Archos.
E-readers are also getting into touchscreens with devices like Spring Design's Alex reader, Hearst's Skiff and Plastic Logic's Que. Outside of CES, Barnes & Nobles' Nook and Sony's Reader lineup introduced touch features last year, and HP launched several TouchSmart PCs and laptops–some with Hulu and Netflix integration–that could give a touchscreen iMac some healthy competition.
What Would a Touchscreen iMac Look Like?
The obvious assumption is that a touchscreen iMac would be an evolution of the current iMac design. But then again, the company may have something a little more radical
in mind. Check out this quote from Apple CEO Steve Jobs discussing the future of the PC and tablet devices with Microsoft founder Bill Gates and The Wall Street Journal's personal technology columnist Walt Mossberg at the AllThingsD Conference in 2007: "This general purpose device is going to continue to be with us and morph with us, whether it's a tablet or a notebook or, you know, a big curved desktop that you have at your house or whatever it might be."
Was that just talk or did Jobs drop us a hint about a "big curved desktop" back in 2007? Curved displays haven't taken off in terms of popularity, but are often hailed by critics because the screens provide a far more immersive experience than flat displays do.
If Jobs was hinting at a curved iMac at D5, I wonder if it would look anything like the concept put forth two years ago by Apple design hobbyist Nuno Teixera? I guess we'll have to wait until later this year to find out.
Connect with Ian on Twitter (@ianpaul).