The $1000 iPhone app is back, and unlike 2008's utterly worthless I Am Rich (which showed only an image of a jewel), this one could pay for itself over time.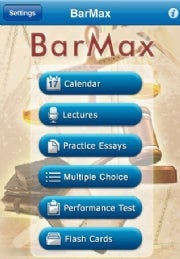 BarMax: California Edition, available now in the iPhone's App Store for $999.99, is a study guide for the California Bar Exam. Harvard lawyers oversaw development of the app, which weighs in at 1 GB and includes outlines, lectures, a study calendar, and real questions and essays from previous exams. The only comparable app available now is from BarBri, but you must be enrolled in the company's $3000 to $4000 classes to use most of the features.
TechCrunch reports that Mike Ghaffary, a former law student and current director of business development at TrialPay, envisioned BarMax as an alternative to BarBri's pricey classes and digital offerings. Ghaffary partnered with successful app developers in Los Angeles, and enlisted some fellow Harvard Law alumni to guide development.
Ghaffary told TechCrunch that BarMax is indeed the most expensive app in the iPhone's App Store, edging out the $900 video surveillance monitor iRa Pro. But unlike that app, BarMax isn't eliminating the redundancy of more hardware, it's replacing a service that might otherwise require human interaction. It's more like the free Pizza Hut app than $80 GPS apps from TomTom and Magellan.
The funny thing about these service-oriented apps is that they're just portable versions of what you can already get online, though a computer. For instance, law students can sign up for MyBarPrep and get online studying materials for $250. You can even get a college education online — fertile ground, surely, for the next iPhone app with a four-figure price tag.