The New York Times hasn't spilled the beans over the Apple tablet again, but rumors are linking the two companies once more. Reports of an upcoming paid model to be adopted by the New York Times are correlated with the mythical Apple tablet, as both are said to go public in the coming weeks.
The Times is expected to announce in the next few weeks details on how the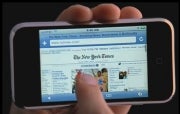 paper plans to charge for its online content, unnamed sources told the New York Magazine. The Times didn't confirm or deny the report, saying it will announce the decision when possible.
Its answer, though, has raised several question marks in the blogosphere, especially as the paper's announcement is supposed to come smack bang around the same time as the Apple tablet, at the January 27 event. Even more, the Times presumably confirmed the existence of an Apple tablet in October last year, in a private speech.
The relation between Apple and The Times is said to be a special one. Firstly, as noted by 9to5 Mac, Apple CEO Steve Jobs often uses the Times' website when demonstrating the iPhone's web browsing capabilities. Also, Apple has reportedly been in talks with publishers, including The Times, in order to prepare content for its impending slate computer.
But could really the two rumors be linked? Previous reports and speculation conveniently point in this direction, but the correlations are pretty vague at the moment. The Times announcement could be just a simple metered model, similar to the one used by the Financial Times, paidContent speculates. This would allow registered users to read certain stories free, while full access would be available only to subscribers.
Then again, maybe the Times won't repeat its mistake with a paywall, as with TimesSelect, which operated from 2005 to 2007. The system charged $50 per year or $8 per month for access to certain areas of the site, but failed miserably and it was taken down. To make up for that, The Times opened its archives from 1987 to the present without charge.