I've had a long and mostly satisfying relationship with Media Player Classic Homecinema, née Media Player Classic. Many moons ago I started using it to avoid opening Web sites embedded in Real Media video wrappers. (How's that for a blast from the past?) I've also always appreciated its simple look–modeled after the old Windows Media Player 6–as well as the integrated codecs. This robust freebie is available in 32-bit and 64-bit versions.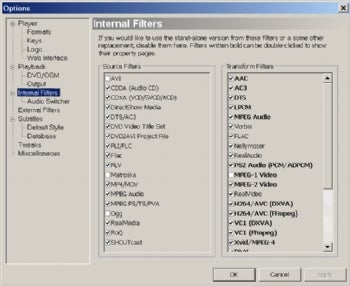 The original author, Gabest, stopped supporting the program a couple of years ago and the project was picked up again, the name altered, and the code improved by another team of developers. For a time, I ditched it for the equally free VLC, which crashed slightly less frequently and offered a few more creative perqs. Now, MPC HC is again my preferred program. The new developers have added internal support for x.264 codecs, DXVA (decoding using your video card) as well as the Microsoft Enhanced Video Renderer, and if my latest experience is any indication they've squashed a ton of bugs.
The main reason MPC HC is once again my favorite is the fine control it allows you over the filter/codecs used to playback media. For any file type, you may select MPC HC's internal codec or a possibly superior DirectShow filter you have installed. For instance, the internal codec for handling WMV files is limited and a bit buggy, so I use the native Microsoft codec. You may even use uninstalled DirectShow filters by simply pointing the program to the .dll or .ax file. This type-by-type feature has allowed me to configure MPC HC so that it never crashes as SPlayer, VLC, or KMPlayer still do and play Apple lossless, APE and other files without actually installing the codecs. And while other players claim to be lightweight, MPC HC truly is. A mere 3.1MB download, it's also makes the stingiest use of CPU cycles and resources I've ever seen.
WMC HC isn't perfect. The menus and dialogs are rife with rather technical terms such as filter, switcher, shader, etc. which can be daunting to the average user. The program could also use point A to point B looping found in KMPlayer (which allows you to loop playback of entire video clips), finer speed control such as VLC's, and the ability to apply FX such as shaders to all file types, also à la VLC. An algorithm that doesn't affect the pitch of the audio when playback rates are increased or decreased might also be in order. However, these are rather rarely used functions that will affect few users.
MPC HC works under Vista and Windows 7, but you'll need to set the renderers to System Default to avoid messages about DirectX 9 not being installed. With just a little tweaking MPC HC can't be beat for stability or parsimonious use of resources. It's a classic freeware goodie and looks to remain that way for a good long while.