Memeo Connect for Google Apps is a desktop application that syncs desktop files with the Google Docs cloud. It helps with file conversions, too, and is available for both Mac and Windows.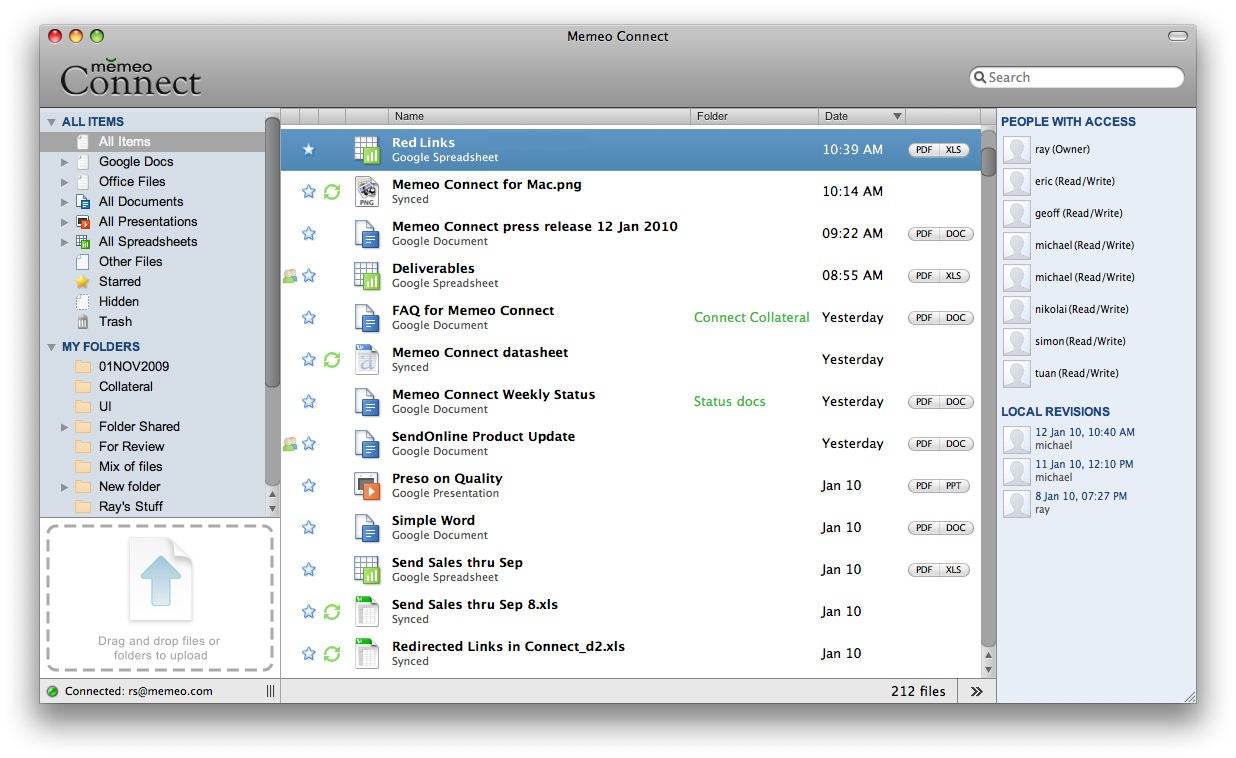 The application was the centerpiece showpiece of Google's Jan. 12 announcement that all types of files can now be stored in Google Docs. This makes Google Docs a more useful tool but also reveals more of its lack of depth.
Memeo Connect, released Monday, requires a Google Apps Premier Edition account to function. Premier Edition is the paid version of Google Apps and costs $50 per user annually.
Priced at $9 per user annually, Memeo Connect tries to solve two issues, first that Google and Microsoft use different file formats for document storage, and second, the challenge of keeping files synchronized between Google's cloud-based storage and multiple desktops.
I've had a chance to test the release version of the application, which has worked just fine for me.
The program does a good job–sometimes too good–of demonstrating the formatting problems involved in moving documents in and out of Google and Microsoft formats.
Microsoft formatting and features are lost when converting to Google formats. The less-rich Google formats are, in my experience, pretty much unchanged when converted for use in Google Docs.
As a workflow, it is best to start a document in Google Docs and leave it there for collaboration and editing before flowing it into Word for formatting and pricing/distribution.
Microsoft-formatted documents are best downloaded from Google Docs using Memeo Connect for local editing in Microsoft Office. At this point, I would definitely not recommend the wholesale conversion of Word or Excel files into Google formats.
Maybe when Google Docs grows up, but not before. That maturation would include the ability to view Microsoft docs from within Google Docs, which I could as a major shortcoming once you can load such files to the cloud.
Also, Microsoft documents added to Memeo Connect must thereafter be opened from inside Memeo in order to keep the changes synched with Google Docs. The synchronization is automatic.
The program also creates local PDF versions of Google Docs for offline viewing, which is a nice touch.
If your only need is to store files in Google's cloud, Memeo is an excellent helper. I really can't find anything wrong with the program that somehow isn't Google's fault. Nice user interface, drag-and-drop to add files, almost too simple to use.
Yes, you could manage your files directly in Google Docs, but Memeo Connect for Google Apps will do it with much less work and attention on your part. And at a reasonable price.
David Coursey has been writing about technology products and companies for more than 25 years. He tweets as @techinciter and may be contacted via his Web site.