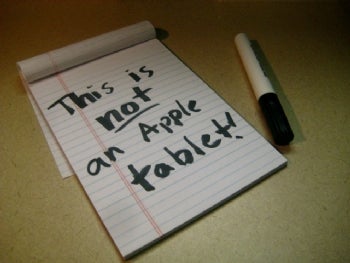 As you probably already know by now, Apple is holding a product event in later this month. The big question on everyone's mind: Are tablets on the table? There have been countless rumors flying around about the so-called "iSlate/iPad/iTablet" (or whatever Apple decides to call it). Read on for a slew of rumors, along with ratings on their perceived validity.
Rumor 1: It'll be released on January 27 (speculation)
Apple sent out invitations yesterday for a "product event" on January 27 (the Financial Times first reported the event in December), and so far all we know for sure about this Wednesday morning invitation-only shindig is the invitation: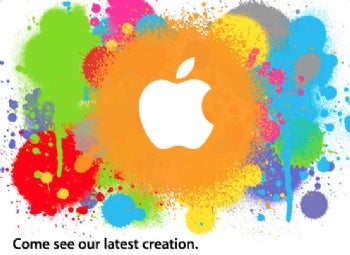 The big speculation, of course, is that Apple is preparing a tablet, though even then we won't know for certain until Steve Jobs holds one onstage. (Some media outlets have also claimed that the iPhone OS 4 is on its way, and might show up at the Apple event.)
Whatever the "latest creation" is, tablet or not, it'll be unveiled at 10 AM on January 27 at San Francisco's Yerba Buena Center for the Arts. For all I know, it could be the debut of an iPod Touch with a camera.
Rumor 2: Creative types need apply (rampant speculation)
The color-splotched invitation reminds me of something I once made in Kid Pix. Does this mean Apple's target customers for the tablet are (actual) professional artists? What features will the tablet have that'll make it so attractive to movie makers, graphic designers, sound engineers?
Rumor 3: OLED screen? (all but disproved)
Since organic LEDs (OLEDs) were so hot at CES this year, the rumors practically wrote themselves that Apple would be sure to incorporate this new technology into their tablet. This must be true, since Apple was supposedly hoarding 10.1-inch OLED screens! Ars Technica is now in the process of squashing this rumor, as according to Barry Young, Managing Director of the OLED Association, "there's no real production of 10.1-inch [OLED] panels" for anyone to be stocking up on. If Apple's going to be mass-producing an iSlate, it probably won't be using limited-availability OLED screens.
Rumor 4: Apples and Oranges, now in French ("confirmed"…and denied)
Last week, one of the executives of France Télécom (owners of Orange, one of the iPhone providers in parts of Europe and beyond) was interviewed about the rumored Apple tablet. If your French is shaky, I'll translate the relevant parts. When asked if "Orange's customers would benefit" by being able to use the upcoming webcam-equipped "device", Stéphane Richard responded in the affirmative: "of course!" While this isn't concrete evidence that the iSlate will be anything more than vaporware, it does show that French executives want to give their customers whatever the "latest creation" is. France Télécom later retracted its "confirmation" of the iSlate, but it'll take more than that to squash Richard's enthusiastic "yes" regarding iSlate availability.
Rumor 5: Multitouch keyboard? (speculation)
Back in December, AppleInsider and the New York Times reported on a patent application for a "multi-touch tactile keyboard". The patent describes retractable articulated bumps to help provide feedback for your fingers. Apple, like most companies, patents technology that it may never use in an actual products, but this particular one raises some interesting possibilities.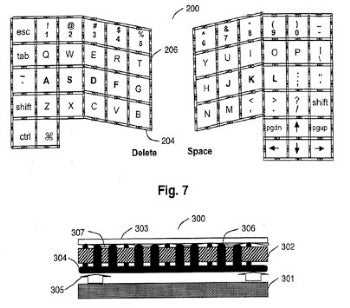 Another possibility, raised by MacRumors, is that Apple could make use of a gesture that would allow for handwriting recognition without the use of a stylus.
Rumor 6: Apple: Bringing sexy back? (rampant speculation with a side of vague)
Business Insider has a few choice quotes from an anonymous industry source who claims to have seen the rumored device's OS. My favorite: "The UI has a good bit of new sexy to it." Your guess is as good as mine when it comes to interpreting what "new sexy" means. How about this one? "It's a big iPhone, but it's not just a big iPhone." More concretely, Business Insider even has 20 guesses as to what the iSlate will look like.
Rumor 7: The First Rule of the Apple Tablet: You Do Not Talk About the Apple Tablet (speculation)
While this isn't a rumor per se, it shows that Apple's horde of lawyers is hard at work. Last week, Valleywag announced its Apple Tablet Scavenger Hunt, offering prizes of up to $100,000 for pictures of the iSlate. Within 24 hours of the post going live, Valleywag received a "cease-and-desist" note from a Menlo Park law firm affiliated with Apple. If Apple is willing to go to such lengths to discourage Valleywag, does this all but confirm the existence of the iSlate? Or is it simply Apple protecting itself?
Rumor 8: It's gone into full production (not-so-rampant speculation)
According to "a maker of components going into the Apple tablet" the rumored Apple tablet is "in full production" as of this month, as reported by CNET. AVI Securities further underscored that they expect the iSlate to be an actual piece of hardware, as they expect up to 10 million of these devices to be shipped in the coming year. The tablet should be more along the lines of a e-book rather than a larger iPhone, as the trend this year is towards book reader-sized devices rather than pocket-sized.
It seems that we've gotten to the point when any tech announcement these days can be connected to the iSlate. What rumors weren't covered here? What are you hoping for in the iSlate? If the Apple tablet doesn't become a reality this month, MacRumors has a post indicating there might be a touchscreen 22″ iMac in the works. And since a former Google executive says that Apple is releasing a tablet, these rumors must be (somewhat) true!
What do you expect to see from a tablet? What do you want to see? Sound off in the comments below.
GeekTech blogger by day, astronomer by night, Alessondra takes apart laptops with a soldering iron in one hand and a multimeter in the other.