Apple's at it again. What other company could release a series of virtual paint blobs and have it generate pages upon pages of in-depth analysis?
Apple, in case you're just waking up from an extended hibernation, sent out one of its traditionally cryptic press event invitations over the long weekend. The colorful invite shows Pollock-style paint splatters with an Apple symbol and the phrase: "Come see our latest creation." The mysterious event is set for next Wednesday, January 27, at 10 a.m. in San Francisco.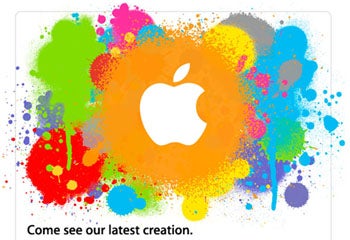 So what's all the blobbery really about? And where's the leggy lady from Apple's last hurrah?
Few people may know, but plenty are speculating. Below is a crowdsourced guide culled from the Internet's collective musings. Each theory comes via a blog, news site, or Apple-related forum. Some were stated earnestly, while others were a bit more tentative or even tongue-in-cheek.
Still, put together, this info's about as official as it gets.
Apple's Launch Event: The Tablet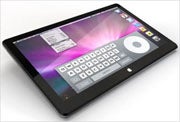 Apple will almost definitely unveil its long-anticipated tablet device at this month's launch event. It'll most certainly be called the iTablet, unless it's called the iPad. Or the iSlate. Yeah, definitely the iSlate. Or not. It might end up being the iCarumba.
Whatever it's called, Apple's tablet will be the Kindle-killer. Unless it isn't. Killing aside, it'll likely feature e-books from HarperCollins and possibly other publishers. The e-books will have added features. The tablet will also offer newspaper content from The New York Times, which could be connected to a new paywall on the company's Web site. Or not.
The tablet will feature Disney-provided video but little in the way of new offerings from music labels. It will, however, feature advanced audio-video editing and a "dual virtual turntable mixer." And possibly free Skittles.
Apple's Launch Event: Tablet Hardware
The Apple tablet will have a 7-inch screen, a 10-inch screen, an 11-inch screen, or an Etch-a-Sketch screen. It'll cost $1000 or maybe $600 and will be available in March. Or June. Probably via Verizon and AT&T. But definitely not in the UK.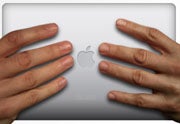 The tablet could have a multitouch surface on its backside. Even if doesn't, though, its "complex vocabulary" of gestures will require a "steep learning curve." After all, it's going to be a "super iPod Touch."
Apple's Launch Event: iPhone OS 4.0
Tablet talk aside, Apple will also introduce version 4.0 of its iPhone operating system next Wednesday. That's a certainty. Unless it isn't.
Assuming it is, the iPhone 4.0 update will likely have some type of new multitasking capability that'll let you run apps in the background. It'll have OS-wide multitouch gestures, a new syncing system for contacts and calendar, and a host of graphical changes. It might also have a new integrated maps app, which would mean Google Maps could be getting the classic Apple boot.
As for a full-fledged new iPhone, there's a chance one could be revealed at Apple's January event. But probably not.
Apple's Launch Event: iMac, MacBook, and Beyond

Apple will show off an updated iMac, a 22-inch touchscreen iMac, and an Intel-inspired MacBook. Or maybe none of those.
There could be a new version of iLife and a cloud-based edition of iTunes. We could see the launch of MacPaint Pro and the successor to Steve Jobs. We could even get a glimpse at Apple's alleged iVision and iWitness technologies.
I don't know about you, but I'm already exhausted.
JR Raphael is a PCWorld contributing editor and the co-founder of eSarcasm. He's on Facebook: facebook.com/The.JR.Raphael