After September 22 but before December 21, that's when you'll see the PlayStation 3's spiffy new motion controller on store shelves, says Sony. In a press release issued late last night, the company revealed its wand-based motion control peripheral for the PS3 (see our exclusive Q&A with the design lead) will ship this fall in Japan, North America, and Europe with ready-to-play software. (Note to Sony: It's just 'software', 'software titles' is technically double-dipping.)
"We have decided to release the Motion Controller in fall 2010 when we will be able to offer an exciting and varied line-up of software titles that will deliver the new entertainment experience to PS3 users, " said Sony Computer Entertainment CEO Kazuo Hirai in the press statement.
"We will continue to work to have a comprehensive portfolio of attractive and innovative games for the Motion Controller, not only from SCE Worldwide Studios but also from the third party developers and publishers, whom we have been working closely with. We look forward to soon unveiling the exciting software line-up that further expands and defines the PS3 platform as the ultimate entertainment system for the home."
Microsoft's 'no controller' motion sensing alternative, dubbed Project Natal, is due to ship by the end of the year, probably in November, placing it head-to-head with Sony's product.
As expected, you'll need the PlayStation Eye camera to use the double-wand system. The Eye's been available for years, of course, and retails for $40 today. It's also arguably the most underutilized, prematurely released official Sony peripheral in existence, so unless you're hip to play Eye of Judgment (a totally decent card game, by the way) I'd wait to pick one up until they're discounting it later this year, or, you know, bundling it with the PlayStation Arc.
Hold up, the PlayStation Arc? What the heck is that?
If you buy VG247's claim, raised 'on good authority', a Sony insider says that's what the motion controller's actually named. You know, Arc. Like the plasma bolts spit from a Tesla Coil (see above).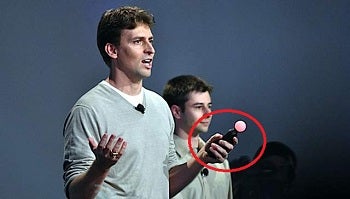 Interestingly, Sony says–my emphasis–that it will "vigorously promote the Motion Controller as the de facto controller of the PS3 platform along with the DUALSHOCK series controller."
Translation: The Arc–I mean Tentatively Labeled Motion Controller Wand Duo PlayStation Accessory Thingy–gets to ride up front with the big boys. No lounging in the backseat or huddling in the trunk with neglected peripherals like the Eye, or the forlorn SIXAXIS accelerometer.
Connect with me on Twitter @game_on