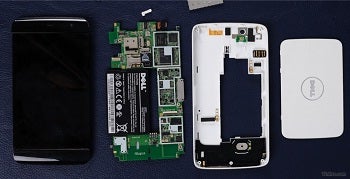 A recent teardown of Dell's upcoming Mini 5 has revealed that the tablet-like device will be powered by a 1GHz Snapdragon CPU.
We first detailed rumors of Dell's tablet plans back in December, with hints that the handheld device, then known as the Streak, would be making an appearance at this years Consumer Electronics Show.
As expected the company did share more details about the Android-based tablet at the show, including a name change to the Mini 5. Dell gave a select number of tech journalists access to the 5-inch device, and according to those who got hands-on time with the new portable product, it's shaping up quite nicely.
Beyond its limited showing at CES, Dell has since been quiet. However, that hasn't stopped the guys over at the Vietnamese site Tinhte from taking apart an early version of the phone-and-internet capable device. The teardown revealed that the tablet is powered by Qualcomm's Snapdragon processor, which was developed specifically for use in mobile devices and smartphones. Tinhte also discovered that the Dell Mini 5, which runs on a modified version of Android 1.6, houses two microSD card slots, a SIM card slot and a 1,530mAh battery.
Dell has not yet confirmed a shipping date for the portable device and the pricing of its new tablet is also unknown, although we do know that when the Mini 5 does arrive it will be available in a choice of either pink, black or red.
Follow GeekTech and Chris Brandrick on Twitter.