AT&T has scored poorly in a wireless carrier satisfaction survey of small and medium businesses and large companies, mirroring an equally dismal performance among consumers last month.
The survey, conducted by Yankee Group and Mobile Enterprise magazine, polled 274 business decision-makers in companies with more than 500 employees, and 292 businesses with 500 employees or less. Both groups ranked AT&T last in overall satisfaction for voice service among small businesses and enterprises. For data, AT&T ranked last among large companies, and slightly above T-Mobile among small businesses. Large businesses favored Sprint for data and voice, and small to medium businesses preferred Verizon Wireless.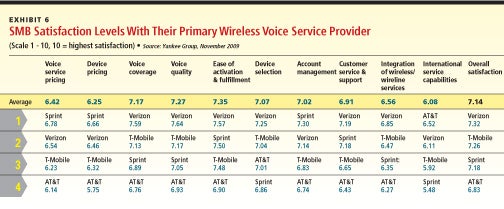 [click chart at left to enlarge]
On individual issues, such as voice quality, data coverage and service pricing, AT&T placed last in more categories than any other wireless carrier. It placed first in no categories except international service capabilities.
The survey neatly complements low consumer ratings, as published in a survey last month by Consumer Reports. Though the carrier received average marks for data and text messaging in that survey, it scored below-average for voice service and customer service. In response, AT&T noted that its turnover rate of 1.17 percent in the previous quarter for postpaid accounts proves that customers are happier than the survey let on.
The same argument could very well apply to enterprises. Businesses that use AT&T may not be as satisfied as those that use Verizon, Sprint or even T-Mobile, but they're not unhappy enough to switch. Besides, switching carriers would take considerably more effort for a company than an individual. Perhaps that's why AT&T was the most widely used wireless carrier among respondents from large companies for data, and tied with Verizon for voice.
One more thing for AT&T to cry about: Verizon users were happier with their data speeds and throughput than AT&T customers, despite AT&T's claims — and findings by PCWorld and others — that it's the fastest in the country.
Update: AT&T spokeswoman Jenny Bridges said the company questions the significance of the survey results, noting that "the differences between the top and bottom rated carriers on a number of attributes of the survey are so small that they are virtually the same from a statistical standpoint," including overall satisfaction for voice and data. The report also highlights how enterprise customers perceive little difference among wireless carriers in their level of satisfaction, she said. Bridges also says that given the small number of respondents for Sprint in particular, "the validity of their results is questionable."