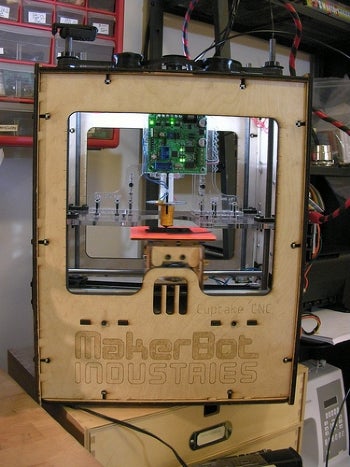 Hewlett Packard, reigning inkjet giant, has partnered with Stratasys, a leading manufacturer of rapid prototyping machines, to bring 3D "printing" of solid objects to the desktop.The HP-Stratasys models have been described as small enough to sit on a desktop, quiet enough to use in an office, and priced under $15,000.
Currently, Stratasys' most popular offerings under the Dimension brand, the "SST" series, are priced closer to $30,000, and are roughly the size of a small refrigerator.
The push by HP-Stratasys to market an entry-level desktop rapid prototyping platform may have been spurred by a series of successful DIY projects; Most notable among them the "RepRap" and "MakerBot Cupcake", both of which sell as kits for under $1,000.
Like the RepRap and Cupcake, the HP-Stratasys platform will operate using ABS plastic material. It's likely that the HP-Stratasys machine will, at least initially, be more like the additive approach used by Stratasys' Dimension line and the Reprap, not the CNC-style of the MakerBot Cupcake machine.
Since the initial release of Stratasys' rapid prototyping platforms, the software used to create the STL files required to generate a three-dimensional print has dropped significantly in price commercially, and been released free and open source by the Blender project.
Assuming HP-Stratasys can continue to lower the price of their desktop-style rapid prototyping machines, it may not be long until we're printing our own household items as-needed, and one step closer to a Star Trek-style replicator.
[Stratasys via Wired Gadget Lab]
Photo: Bekathwia on Flickr; licensed under Creative Commons