Amazon is making some aggressive moves to defend the dominance of the Kindle as an e-reader, while also expanding its functionality to fend off competition from other gadgets. Following the news that Amazon is introducing a new royalty plan for Kindle authors, Amazon has also released the KDK (Kindle Development Kit) to enable developers to create apps for the device.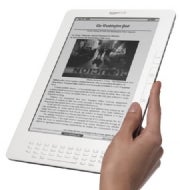 The success of the Amazon Kindle has legitimized the concept of an electronic book-reading gadget and led to an explosion of competing devices like the Barnes and Noble Nook, and the Sony Reader. The spike in e-reader interest combined with some strategic mis-steps by its competitors over the holiday season, helped Kindle to become the most gifted item in Amazon history.
Emerging gadgets threaten to make the e-reader concept obsolete very quickly, though. Smartbooks, netbooks, and tablet PC's all provide a more complete computing experience on gadgets with form factors that are similar in both portability and cost to the current portfolio of e-readers.
Even after recent competitive price cuts, the Kindle and the Nook are both $259. Some e-readers, like the Plastic Logic Que proReader, retail for almost $800. With netbooks starting under $300, and tablet PC's entering the market under $1000–some as low as $200, it will be difficult for users to justify investing in a gadget that only reads books.
The biggest challenge–because the form factor is essentially the same– comes from tablet PC's. Users are unlikely to invest $300 in an electronic book reader, when a similar investment can get them a device that is the same size and shape, can also read a wide array of electronic books, and provides additional computing and communications capabilities not found in e-readers.
The mythic Apple tablet PC–which may or may not exist, and may or may not be unveiled at a major press event Apple is holding next week–is rumored to be many things. Recent speculation, however, has focused around it being essentially a super-sized iPhone delivering Apple's library of over 100,000 apps on a 10-inch touchscreen display. Or, maybe it doesn't exist at all, or it will be something else entirely. I guess we'll find out next week.
The Amazon KDK, and Amazon's efforts to woo developers to create apps for the Kindle, seem like a bold attempt to stay one step ahead of the curve and avoid premature obsolescence. Apps won't transform the Kindle into a tablet PC, but they will expand the functionality of the device–blurring the line between what we expect from the various gadgets, and delivering a more comprehensive experience on an established platform at a competitive price.
Where the Kindle will still fall short of tablet PC's, or the Apple iSlate (iTablet, iMyth, or whatever it will be called if it exists), is that it relies on a black and white electronic ink display. That is great when trying to emulate the paperback or newspaper reading experience, while also preserving battery life. However, it doesn't offer a very appealing platform for apps and other functionality.
Amazon has managed to establish the e-reader concept, and achieve market dominance with the Kindle. The emerging array of gadgets–e-readers, as well as tablets, smartbooks, and netbooks–will challenge Amazon, but the established base of Kindle-users gives Amazon a lot to work with in trying to expand the functionality and lifespan of the device.
Tony Bradley tweets as @Tony_BradleyPCW , and can be contacted at his Facebook page .