Earlier today, Mozilla released Firefox 3.6, the latest version of its popular browser. While it's not as big of an update as the more ambitious Firefox 3.5, it includes a number of under-the-hood improvements, and a handful of changes that you might discover as you use it. Here are some of the most notable improvements.
Plug-in Check for Better Security
Firefox 3.6 can now detect whether any of your installed browser plug-ins (Flash, etc…) are out of date. Why is this important? Cybercriminals often use bugs in outdated versions of some browser plugins–particularly Flash and QuickTime–to attack your PC and potentially install malware that can be used to steal your personal information, or turn your PC into a spam bot. In essence, Firefox 3.6 now automatically does what Mozilla's Plug-in Check page did for earlier versions of Firefox.
Full-Screen Video
You can now watch certain types of videos in full screen with Firefox 3.6. If the video is in the Oog Vorbis format, you can right-click the video and select an option to see it in full-screen. To give this a try, check out this time-lapse video of a drive through Downtown Seattle. To view it in full-screen, start playing it, right-click it and select Full Screen from the menu. Just like that, you're going down the streets of Seattle.
Well, sort of.
The downside to this feature, of course, is that it only works with certain videos, and unless you pay close attention to video formats, you may be confused as to why this only works part of the time.
Under the Hood
When we last tested browser page loading speed, we found that Firefox 3.5 was a good deal faster than earlier Firefox versions. Mozilla claims that Firefox 3.6 is even faster, with improvements to JavaScript performance in particular, which should result in faster load times for Web pages and Web apps. Firefox also improves support for some of the latest Web design technologies, which should make it easier for designers to create better, more attractive sites.
And, perhaps as a sign of things to come (with tablets starting to gain more attention), if your notebook or tablet (or whatever gadget you're using) has an accelerometer that detects changes in orientation, Firefox 3.6 will now be able to tell when you rotate your gadget, and it'll rotate with it.
Skins Come to Firefox
The most noticeable change–at least from a visual perspective–is support for Firefox Personas. Personas are basically interface skins that you can apply with one click, and they're actually pretty similar to the skins available for the Google Chrome browser. Mozilla has a gallery of personas at getpersonas.com that features over 35,000 designs to choose from.
Applying a Persona is easy: Visit the Personas gallery using Firefox 3.6. To "try on" a Persona, mouse over it; Firefox will temporarily change its appearance to that Persona. If you like it, click it. If you decide to revert to the default theme, select Add-ons from the Tools menu, click Themes, then select Default.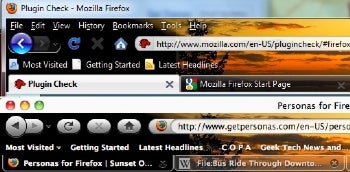 One thing I noticed is that these themes look better on the Windows version than the Mac version; it looks like Personas were designed to take the Windows titlebar into account, but not the "unified" look of a Firefox window on Mac OS X (where the toolbar and titlebar appear to be one). Also, while Personas won't necessarily boost your productivity, some of the ones I toyed with make the text in the toolbar difficult to read.
If you use Firefox 3.5, upgrading to 3.6 should be a no-brainer. And if you use an earlier version, you too should upgrade, if for no other reason than to avoid any known security flaws that might affect older versions. It's a free download (of course) from getfirefox.com.