Apple is in talks to bring its rumored tablet device to the 3G networks of both Verizon and AT&T, according to reports. Since Verizon uses the wireless network standard called CDMA, and AT&T uses the GSM standard, Apple may have to produce two different versions of the device, according to a report at Fox News. Then again, a "world edition" device that runs on both network types may not be out of the question–assuming Apple's new product will have cellular connectivity at all.
A third option may be Apple may not have a carrier deal lined up for its product launch next Wednesday. This might mean Apple may not be able to announce pricing of a tablet at the event.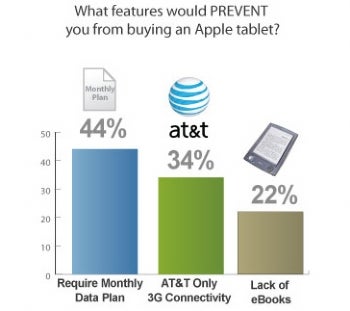 This latest rumor also suggests Apple is confident that public demand for its rumored tablet will be high enough to warrant releasing the device on two different networks. Meanwhile the research firm Retrevo has some interesting insight into how much consumers will pay for a tablet and what they want and don't want from Apple in terms of connectivity.
Connectivity Everywhere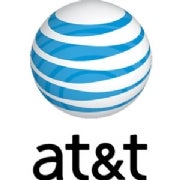 Fox News believes the Verizon version of the tablet will be designed to automatically switch between Verizon's public hotspots and the carrier's 3G network when no Wi-Fi connection is available. Verizon would offer free access to its Wi-Fi hotspots as part of the rumored tablet's data plan. The tablet on AT&T would likely have the same feature since AT&T's iPhone users already receive free access to AT&T Wi-Fi hotspots. AT&T says it has more than 20,000 hotspots nationwide including, while Verizon has just fewer than 15,000.
Tablet on the cheap?
If the tablet is going to be a carrier-specific device this also raises some questions about pricing. Retrevo research reveals 70 percent of those surveyed would not buy a tablet if it cost more than $700. Most estimates put the rumored tablet's price tag closer to $1000, which means Apple would likely need to offer a carrier-subsidized device to encourage widespread adoption. Problem is, a monthly data plan for the tablet could also discourage sales. Forty-four percent of those surveyed by Retrevo said they would not buy a tablet that required a monthly data plan.
Verizon and Apple Rumors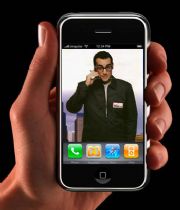 The suggestion that Apple's latest device may show up on Verizon's network also raises the question of whether Apple's other mobile product, the iPhone, will ever be offered by Verizon. The latest rumors say Apple will announce an iPhone deal with Verizon at its "latest creation" event next Wednesday. But it should be pointed out the iPhone on Verizon rumor has been suggested several times, and yet the device remains an AT&T exclusive. In other words: don't get your hopes up.
Loose Ends
The AT&T/Verizon tablet rumor is the second time it's been suggested Apple has a few loose ends to tie up before the device can officially launch. On Monday, the Wall Street Journal reported that Apple was still in talks with publisher Harper Collins to bring e-books to Apple's new device.
Connect with Ian on Twitter (@ianpaul).