When Amazon's Kindle e-reader gets an app store later this year, app developers will have to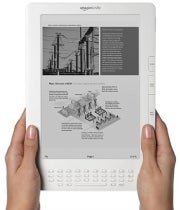 get creative. Though the Kindle has a big screen and can surf the Web, it's no iPad in terms of capabilities. We've heard that the Kindle app store will include travel books with weather and news updates, simple games such as crossword puzzles, and a continually updating Zagat restaurant guide, but here are some other ideas:
Book Sale Finder
Like AppMiner and AppSniper on the iPhone, a book sale finder could scan the Kindle Store for currently discounted e-books. Ideally, you'd even be able to set up a watch list for your favorite books and get e-mail alerts when they're marked down.
Twitter
A Twitter app seems perfect for the Kindle. You'd just scroll through your friends' updates with the page buttons, and bang out 140-word updates on the Kindle's keyboard.
Sports Scores
The perfect companion to football Sunday, an app like ESPN Scorecenter would be great on the Kindle's 6-inch display. Variants of this app could be geared more towards fantasy sports fanatics, allowing them to keep tabs on all their players.
Sheet Music
Not everyone's a musician, but a book of guitar tablature or horn charts could spawn a new niche of Kindle users, especially for the large-screen Kindle DX. It'd be especially awesome if the tablature app counted time with a metronome and automatically switched pages.
Google Docs
Though typing isn't a breeze on the Kindle, as long as you're viewing documents it'd be nice to make edits, especially when collaborating with other users.
Dining Menus
Just plug in your location, and this app would pull up menus from area restaurants. The Kindle's page buttons would let you skip between eateries, and you'd be able to narrow it down by genre.
Kindle Web Sites
The Kindle already lets you read newspapers and blogs, but a Kindle app store would let any Web site develop a version that's optimized for the e-reader. First on the agenda should be Kindle-optimized version of the FAIL Blog.
Space Invaders
I'm not entirely sure the Kindle's display and processor could handle Space Invaders (if not, that'd be so sad), but it's more fun to imagine than crosswords and Sudoku. It's a stretch, but maybe Kindle Space Invaders would harken back to yesteryear's black and white vector displays.