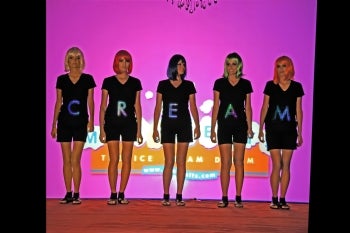 Fashion Week (February 11-18, 2010) is now underway, and new developments could give designers more options when it comes to high-tech fashion. Some previous attempts at wearable electronics, such as Levi's iPod Jeans, were less than successful, but recent developments could make such attire more popular.
Fabric Batteries
Stanford University researchers have developed a way to effectively make batteries out of fabric. The method used is similiar to the one developed to make batteries out of paper. It's pretty out-there, but it could be the first step in developing clothing that could be used to charge portable electronics like MP3 players or smartphones.
The process involves coating polyester fibers with a special "ink" made of single-walled carbon nanotubes. These nanotubes are electrically conductive microscopic carbon fibers, and are only 1/50,000 the width of single human hair.
After coating, the fabrics become porous conductors that can conduct electricity.These treated electronic textiles should be as flexible and elastic as untreated cotton and polyester. The conductive textiles retain their electronic capabilities even after multiple laundry cycles.
The next step is to replace the expensive carbon nanotubes with the less costly graphene, another form of carbon that comes from graphite oxide. No mention on whether or not the carbon nanotube or graphene "inks" can be made available in colors other than black.
Flexible, Wearable Displays
Recent research in stamping inorganic LEDs into fabrics introduces more possibilities to make light-up clothing similar to Phillips' Lumalive products. Inorganic LEDs usually need to be cut and assembled for use in devices like cell phones. But newer methods allows them to be fitted onto all kinds of materials including rubber, plastic, and glass. Remember the light-up shoe craze from several years back? Imagine pants that lit up as you walked. Not appealing? Tell that to your kids.
These new developments should give designers more options. For example, the the electronic Rock Guitar Shirt and Rock Drums Shirt at thinkgeek.com, could be made even more appealing without having to carry around a battery pack for your shirt. Other possibilities might be electronic billboards instead of logos on shirts, or an animated version of your favorite "I'm With Stupid" type shirt.
Textile batteries can be practical too. Heated clothing is one possible application: Textile batteries could allow such clothing articles–jackets, gloves, pants, and so forth that are similar in nature to an electric blanket–to power themselves instead of relying on a separate battery.
Joggers and athletes could also benefit from power-on-the-go clothing: pedometers, heart monitors and such could be incorporated into your clothing, for example.
What kinds of new fashions would you guys like to see? I'm fine with any technology that doesn't point us towards those stupid Battlestar Galactica tanktops.
[via Wired]