For a straightforward, lightweight tool that makes it easy to journal your everyday activities, check out Anuran (free/donationware).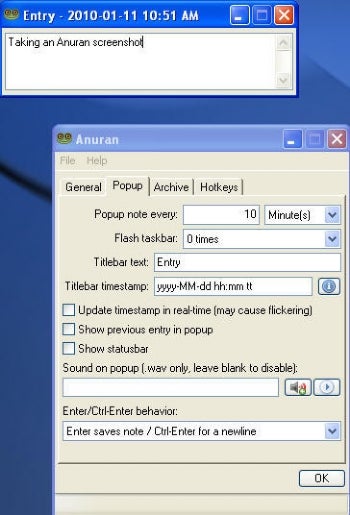 This donation-supported utility pops up a small window at times you choose, or in response to a configurable hotkey. Type a small note such as "Working on the Anuran download entry" and hit enter, and the pop-up automatically disappears, saving your text to a small file with a timestamp for when you wrote it.
The accompanying AnuVu tool lets you see all the notes you've written. To view only certain entries, type a keyword into the small box in the lower-left, and AnuVu will filter for matching entries.
Anuran automatically rotates your journal into archives at configurable intervals, such as every 30 minutes or every day. AnuVu allows for viewing your current log, selected archive files, or all of them together.
Anuran doesn't require installation. Just unzip its folder and double-click the Anuran icon. When you first run it you'll choose options such as whether and how often to pop up its note-taker, and how often to archive. From then on it runs out of the system tray.
This efficient utility would likely be of most use to those who need to track their time for particular projects or for billing purposes. But it would also help anyone who wants to keep a simple journal of his or her activities as easily as possible. A quick demonstration video for Anuran is available on YouTube.
Anuran is free to use, but if you like the software, you can donate to the author, who accepts donations at DonationCoder.com.