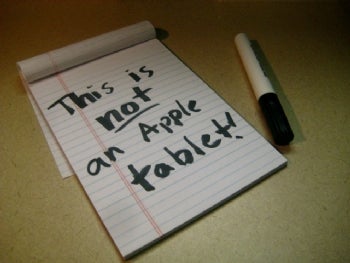 Just when you think Apple Tablet madness couldn't get any crazier, it does. Plenty of hay is being made this morning over a report from Web analytics firm Flurry over what the company believes is proof of an Apple tablet's existence (for more, see our prior story on the topic). The purported "proof"? Apple testers using a device running iPhone OS 3.2. But those claims are shaky at best. Here's why.
This Could Be Anything.
As Wired's Brian X. Chen notes on Twitter, devices identifying themselves as "iProd" have cropped up since before Apple announced iPhone OS 3.0. What is iProd? None of us know for sure, but Brian's guess that it's "probably just a generic label for a device in production" is likely on the right track.
This device could be a tablet, it could be a future iPhone. It could be something else. To claim it as anything definite is disingenuous.
iPhone OS, not Tablet OS.
It's more than likely that any tablet that Apple announces will have quite a number of things in common with the iPhone, but I suspect that Apple's tablet OS will be more akin to an iPhone OS sibling. That is, it'll share some DNA with the iPhone OS–it'll be built on OS X and made for touch–but it won't be the same thing.
The iPhone OS works well on a smartphone-sized device, but a tablet will likely have a slightly different feature-set, with slightly different needs, therefore the OS will likely be different. After all, it wouldn't make a whole lot of sense to run apps designed for 320-by-480-pixel, 3.5-inch screen on a screen that is much larger.
Is it possible that this new OS would identify itself as an iPhone OS? Sure. Is it possible that a tablet would run iPhone apps in some way? Quite possibly. But is this anything concrete? Far from it.
An OS Update Doesn't Equate to a Hardware Update.
One claim that Flurry made is that iPhone OS updates typically coincide with new hardware. While this has been the case some of the time, it doesn't always hold true. No new hardware accompanied iPhone OS 1.1. Same held true for the iPhone OS 2.2 update.
None of this, of course, is saying that there won't be a tablet announced. When the Wall Street Journal–of all media outlets–reports that a tablet is coming, there's a pretty good chance that Apple is up to something. But when words like "proof" and "confirmed" are bandied about the blogs as if Steve Jobs already stood onstage tablet-in-hand, it's good to take a step back and realize where things really stand.
Updated Jan. 25, 2010 at 1:30 PM PST to clarify the headline.
Nick Mediati is an Assistant Editor with PCWorld, and keeps watch over the GeekTech blog. He doesn't want to see a tablet ever again.