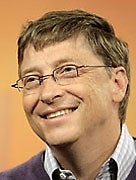 The global recession has taken a heavy toll on developed and developing nations alike, but those living in extreme poverty have been hit the hardest. And while the worldwide economy is starting to emerge from its 2009 nadir–and a full recovery may take many years–a combination of "scientific innovations and great leaders" can improve the lives of the world's poor.
That's the word from Bill Gates, who addresses these and other critical issues pertaining to worldwide poverty in his 2010 Annual Letter as co-chair of the Bill & Melinda Gates Foundation. Gates, who left Microsoft in 2008 to focus on philanthropic efforts, see a rocky road ahead for the global economy.
"Although the acute financial crisis is over, the economy is still weak, and the world will spend a lot of years undoing the damage, which includes lingering unemployment and huge government deficits and debts at record levels," he writes.
Despite his gloomy economic forecast, however, Gates is optimistic that wealthier, technologically advanced nations can "improve the human condition" for everyone.
No Easy Solutions
The personal and political challenges are great, however. In northern India, for instance, almost 10 percent of children die before their fifth birthday. Improved vaccination rates would help. Gates, who traveled to India last summer, points out that money from well-intentioned donors doesn't always get to the people who need it most. New political leadership in India, as well as local watchdog groups that monitor spending of charitable contributions, may help, though. "The foundation is considering funding measurement systems to help improve these programs," he writes.
A few highlights from Gates' letter:
· There isn't enough investment in innovations that primarily benefit poor people, who can't generate a market demand.
· The Gates Foundation is backing some 30 innovations, including efforts to eliminate diseases, improve sanitation, and enhance online education.
· Efforts to eradicate malaria are showing progress, although the disease remains tricky to contain.
· There are fewer than 3,000 polio cases per year—a 99-percent reduction in 20 years. But the virus remains hard to eradicate in some unstable regions, including parts of Afghanistan and Pakistan.
· In November the Foundation donated $335 million to help develop an evaluation system to improve teacher effectiveness in several U.S. cities.
· Online educational materials need to be better organized for student research. Today's search tools aren't up to the task.
You'll find a full copy (PDF) of Bill Gates' 2010 Annual Letter here.
Contact Jeff Bertolucci via Twitter (@jbertolucci ) or at jbertolucci.blogspot.com.