Oh. My. God. I just heard the craziest thing. Are you ready? Apple might be introducing a new tablet computing device. Maybe even this week.
Wild, I know, but a friend of a friend of my brother's ex-girlfriend's mechanic's step-uncle swears it's true. If only someone were writing about this supercomputing gizmo…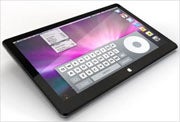 All right, enough joking; we've all been force-fed a steady diet of Apple tablet talk for weeks now. We know everything there is not-to-know about the deified device — the iSlate, iPad, iTablet, or iWishAppleWouldAnnounceThisThing- SoEveryoneWouldStopSpeculatingAlready. (Take your pick.)
But what if we could see an actual ad for Apple's larger-than-life creation? A real commercial, leaked from the airtight walls of Cupertino?
It's no surprise such a possibility would intrigue the Web's many Apple fans.
The Apple Tablet Video
Amidst the unavoidable Apple tablet mania — did you hear that someone just published "proof" of the tablet's existence? — a French blog has uploaded a video to YouTube entitled "APPLE IPAD aka ISLATE TABLET AD ?!" The clip, as its title suggests, shows what appears to be a commercial for the thus-far-unconfirmed Apple tablet.
The video features lines of text fading in over splotches of paint (similar to the ones seen in Apple's cryptic media event invitation). "After 10 years of development," the text says, "a revolution in personal computing. iPad. Spring 2010."
The clip has been picked up by various tech blogs and described as a "possible [Apple] tablet advertisement." These blogs, however, missed one crucial piece of information.
The Problem with the "Apple Tablet Ad"
Click over to the site from which the video originated and you'll find a story entitled "An advertisement for Apple Tablet aka iPad." Translate the page into English, and you'll see the following line of text directly above the embedded video:
"Here's what advertising might look like … if it was finally called iPad."
Look further down on the page, and you'll see the story's author responding to comments about the video's authenticity (or lack thereof).
"Here is how the iPad advertising could look like," he re-emphasizes in one comment. "I never said that this video is authentic."
Sorry to burst the bubble. If you're still looking for a wild Apple-related rumor, though, I heard something about a pair of superpowerful new iVision 4D goggles. A friend of a friend of my brother's ex-girlfriend's mechanic's step-uncle swears they're real.
JR Raphael is a PCWorld contributing editor and the co-founder of eSarcasm. He's on Facebook: facebook.com/The.JR.Raphael