At a Glance
Expert's Rating
Pros
Good price for quad core plus Nvidia GTS 250M GPU
Blu-ray plus 18.4″ 1080p display
Cons
More than ten pounds
Off-axis image quality mediocre
Our Verdict
Decent gaming performance and terrific graphics make this an intriguing choice for gamers, if you can get past its bulk and its short battery life.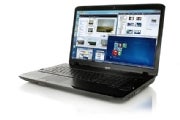 While it's true that no laptop can replicate the full gaming experience of a high-end desktop gaming system, notebooks like the Acer Aspire 8940G can aspire (pun intended) to gaming performance good enough for most users. The 8940G also offers Blu-ray, so you can have a superlative movie and media viewing experience–if you're watching your movies from exactly the right viewing position.
The quad-core Intel Core i7 720QM processor seems paltry at first blush, with a base clock speed of 1.6GHz. However, Intel's turbo-boost technology gallops to the rescue in most games, enabling the processor to run at 2.4GHz if only two cores are needed, and up to 2.8GHz on a single core. Most PC games really don't take advantage of more than two cores, so the overall CPU performance available for games is adequate.
Toss in an nVidia GeForce GTS 250M mobile GPU, plus 1GB of video memory, and the Acer becomes a balanced package for gamers who want a system with some mobility. On top of that, this GPU mated well with the huge, 18.4-inch native 1080p display. All this PC goodness is available for under $1400 (typical street price, as of 1/25/2010)–not bad at all.
We were also pleasantly surprised by this big unit's battery life–it ran for over 2 hours, 20 minutes in our testing. You won't be able to watch any of the Lord of the Rings movies on one charge, but it's long enough for the average DVD movie. (Bear in mind, however, that Blu-ray movie playback may consume more of that charge.)
All that PC horsepower comes in a naturally hefty package. At a hair over 10 pounds and about 17 by 12 inches, it's not really something you'd want teetering on your lap on an airliner or subway seat. What that bulk also buys you, however, is a nearly full-size keyboard, with a dedicated numeric keypad and one of the more usable sets of media transport controls we've seen.
Game performance, as expected, was pretty decent. All our test games–some of which are admittedly old now–tracked at over 50 frames per second, even at 1680-by-1050 resolution. The more-current games we tried do fall off a bit. For example, Stalker: Shadows over Chernobyl eked out under 30 fps in the more-demanding modes. That means you'll need to give up a little eye candy in the latest generation of game titles by dialing down some of the graphic features. (High quality shadows, in particular, are a frame-rate killer.)
Performance in WorldBench 6 was on a par with quad-core systems of similar design. Particularly notable were the Photoshop and 3dsmax 8 scores–the quad-core CPU helps out in these tests.
The Acer also offers great expandability. Not only does it have five USB ports, but one of them can also act as an eSTAT connection, offering access to speedier external hard drives with eSATA support. Three of the USB ports are on the right side, as is the Blu-ray disc drive. All the rest of the ports–the combo USB 2.0 / eSATA port, another USB port, three audio connections (two out, mic in), gigabit ethernet, and no fewer than three display connectors–are on the right side. Acer also saw fit to include a 4-pin FireWire port, though support for IEEE 1394 is steadily waning.
Output to an external display is through FireWire, HDMI, or DisplayPort. You can easily connect the Aspire 8940G to an A/V system using the HDMI output and employ it as a Blu-ray player for your home theater system. The 8940G even has CIR (consumer IR) built in, so you can use programmable remote controls with it.
Blu-ray and DVD playback looked good. We watched the Blu-ray versions of Planet Earth and Casino Royale, plus the DVD of Lord of the Ring: Return of the King. They all looked quite good–as long as you were sitting in the sweet spot for viewing. If you were watching from more than about 20 degrees off axis–or less vertically–you'd see substantial color shifting.
Audio quality was surprisingly robust. You won't get deep bass, but the whole affair was pretty loud for laptop audio and remained clean. Stereo imaging was also solid. Note that this laptop actually has 5 speakers plus a small "subwoofer" integrated into the chassis, but you won't get true 5.1 (with rear-channel effects). Still, this Acer definitely sounded a notch above the Toshiba Qosmio X505 we tested last month.
As is typical at this price, the bundled software is somewhat limited. You get NTI's Media Maker and Backup packages, Microsoft Works, and limited-use trialware versions of several different apps, including Microsoft Office and McAfee's Internet Security.
The Acer also offers some thoughtful usability touches. The keyboard has an excellent overall feel, though we do wish the company had built in full-size cursor keys and separated them a bit from the rest of the keyboard. The keyboard is backlit, but an FN key combination can disable the backlight.
The cluster of media transport keys is well thought-out, and even has a single-button disabling key so you won't accidentally skip ahead or pause while watching movies. One of the more useful features for gaming is a physical button that disables the trackpad–since you're likely to be gaming with a mouse or other external controller.
Overall, the Acer Aspire 8940G is one of the better examples of a modern desktop replacement system, offering excellent gaming performance in its class, an enjoyable multimedia experience, and great usability in an attractively priced package.
–Loyd Case