Mario can't rescue the princess without his Fire Flower. Mega Man can't beat Dr. Wily without his Mega Buster. If you're going to save the world, you need the proper equipment–and a keyboard and mouse just won't cut it. Fortunately, you can get pretty much any mainstream console gamepad working on a PC, so you won't have to shell out megabucks for an X-Arcade TankStick to bring back your gaming glory days.
Current Controllers: Xbox 360, PS3, Wii
First off, if you haven't tried using your Wiimote on your PC, you're missing out. We've got a how-to on using your Wiimote with your PC already, but the abbreviated version is: Get GlovePIE.
Xbox 360 controllers also aren't too tricky to get working, since they're made by Microsoft. If you have one with a USB cable already, it should work when you plug it in, but if you'd rather not be tethered to your PC you'll need to grab an Xbox 360 Wireless Gaming Receiver ($25), which will let you use up to four Xbox 360 gamepads and headsets at a time so you can brawl with your buddies.
Stalwart Sony fans will have to install a driver for their PS3 pad–although the pad is automatically detected when you plug it in via USB, it won't work. You can find different homebrew drivers out there, but the most feature-heavy version comes from MotioninJoy, which supports both Sixaxis and DualShock 3 gamepads for Windows XP/Vista/7 (32-bit and 64-bit). MotioninJoy's instructions are a little tricky to follow, but here are the basic steps:
Download and install the MotioninJoy package.
Restart your PC, and press F8 during startup (after the BIOS is done loading, but before Windows starts) to open the Advanced Boot Options menu, and pick Disable Driver Signature Enforcement. (Doing this could potentially open up your PC to a security risk, so don't make it a habit.)
Plug your PS3 pad in.
Once you're done booting up, open the MotioninJoy folder in your Start Menu, right-click on Install MotioninJoy Driver, and choose Run As Administrator.
Open the DS3 Tool app from the MotioninJoy folder and start configuring your PS3 gamepad. Bluetooth support is still a little bit shaky, but USB should work fine.
Classic Gamepads: PS2, SNES, Genesis, and Beyond
If you're looking to get your Playstation/Playstation 2 controller working, your best bet is a Playstation-to-USB converter, but if you pick the wrong converter you might notice lag or compatibility issues. The Stepmania.com Wiki has a good listing of these converters (as well as GameCube-to-USB converters), though it's written specifically with Dance Dance Revolution fans in mind.
Just don't grab one without reading a few reviews first. Generally, these will either have manufacturer-supplied drivers included on a disc or for download, and they'll be usable with any HID-compliant game software.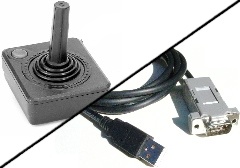 Even the grizzled gamers who just can't bring themselves to play an NES game with a Playstation pad have options. Though a handful of companies make updated versions of classic pads with dimensions similar to the originals, RetroZone caught my eye because it offers adapters for NES, SNES, N64, Atari, Vectrex, and Sega Genesis pads as well as converted NES/SNES USB pads if you don't have your old gear any more. The adapters typically run for about $22, while the pads are in the $35 range.
But what about gamepads for truly vintage legacy games (which might not support HID devices)? No gamepad how-to would be complete without a link to JoyToKey, a freeware utility that lets you take inputs from any USB gamepad and map them to keyboard inputs, so older PC games won't be left out from the action.
All you have to do is download JoyToKey, install it, plug in the gamepads you want to use, and assign each button to your desired keyboard input. It takes a little trial and error (the buttons are typically named unhelpful things like Button 1 and Button 2 instead of X and Y or Square and Triangle), so be prepared to spend a few minutes testing it.
Want to see a how-to for a gaming device that wasn't included here? Let us know in the comments!
Patrick Miller is a staff editor for PCWorld. Find him off-duty @pattheflip.