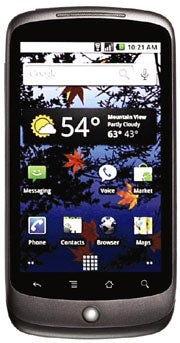 A fix is coming for the 3G connectivity problems that some Google Nexus One users have been reporting since the phone's launch in early January. The search giant turned mobile maven said it will provide an over-the-air software update in the "next week or so" to address the issue.
The Google Nexus One, manufactured by HTC, is the first smartphone to come with the 2.1 version of the Android mobile operating system. However, since its launch, the phone has seen several user complaints regarding customer support and poor 3G connectivity.
In the Nexus One support pages, Google employee Ivar explained that the company's engineers "uncovered specific cases for which a software fix should improve connectivity to 3G for some users." The solution is in tests now and results are positive, Ivar says, with a software update expected within approximately one week.
Still, the software fix Google is preparing for the Nexus One might not help address all of the users' connectivity woes. Some of the poor 3G connectivity problems experienced can be a result of "being on the edge or outside of 3G coverage, which a product fix cannot address," the forum answer detailed.
T-Mobile's relatively limited 3G coverage could be part of the problem. The wireless carrier, so far the only available partner for the Nexus One, has the smallest 3G footprint in the U.S., after Verizon, AT&T, and Sprint. The above-mentioned software fix from Google won't be able to improve T-Mobile's 3G coverage.
Google has also forged deals with Verizon Wireless in the U.S. and Vodafone in the U.K., on which the Nexus One will be available this spring. The Nexus One can also be purchased unlocked for $529, but it will only work with AT&T at EDGE speeds.
Follow Daniel on Twitter @danielionescu