Odds that Sony's holiday-bound pair of motion-sensing wands will be called the PlayStation Arc got a hair better after a casual 'whois' query turned up an eponymous domain registered to the company.
PlayStation LifeStyle dropped the text 'playstationarc.com' into a domain registration tracker and turned up the following results:
Website: Domain Name: playstationarc.com
Registration Date: 2009-10-06 Expiration Date: 2010-10-06 Domain last updated on: 2009-10-06
Registrant Contact: Organization: SONY COMPUTER ENTERTAINMENT INC.
No, it's not a hoax perpetrated by whois-search.com. Try it in whois.domaintools.com, allwhois.com, or whois.net and you'll get the same results. And like the official Sony domain ps3.com, playstationarc.com's domain service is provided by Japan-based Brights Consulting Inc.
Sure, it could be Sony grabbing up hypothetical domain names as placeholders (for all we know, the company's planted dozens of others no one's thought of yet) or simply employing it as a ruse to distract armchair sleuths.
And before you ask, no, ps3arc.com isn't Sony's–it's just another joke site targeting gullible gamers, registered to someone in Canada. (Nice Photoshop work, though the Spidey font's a trifle 2006.)
The rumor that Sony's motion-control wands would get the 'Arc' tag spread when games blog VG247 cited a 'concrete' anonymous insider. The name made me think of a Tesla Coil, so I stuck a picture of one in my post.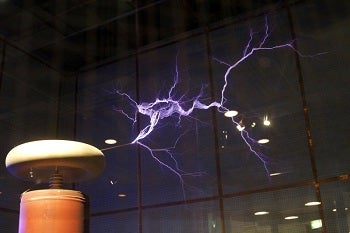 I've seen worse resemblances.
Connect with me on Twitter @game_on