Was he just being polite, or does Apple's COO need an attitude adjustment? After Apple announced its bravura first-quarter earnings results Monday, a Wall Street analyst asked about the company's exclusive iPhone deal with AT&T. As you've no doubt heard, there is fairly well founded speculation that by the end of the year Apple will end that arrangement and sell the iPhone via additional carriers. Whether the rumor is true or not, the earnings call would have been a good forum to prod AT&T to improve its annoyingly anemic 3G network, but instead, Chief Operating Officer Tim Cook punted, saying: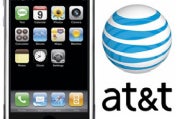 "In the vast majority of locations, we think that iPhone customers are having a great experience," Cook said on a conference call with investors and journalists. Great experience? Me and millions of users would beg to differ. Apple's 3G service is terrible in a number of major metro areas; indeed, in an test sponsored by PCWorld, (conducted by Novarum) AT&T ranked last in reliability behind Verizon and Sprint in 13 cities, although its download speeds were above average in a number of areas.
Cook noted that AT&T has pledged to bolster its network, saying: "We have personally reviewed these plans and we have very high confidence that they'll make significant progress towards fixing [the problems]."
I don't like the sound of that. Users of the iPhone and iPod Touch have long since run out of patience with AT&T's terrible service and its never ending promises to provide better service. Maybe Cook was just being polite to a major partner; at least, I hope so. Apple has driven millions of new customers to AT&T and has every right to be cranky about the damage to its brand at the hands of Ma Bell and her crew of bozos.
Just last week, Gerard Hallaren of TownHall Investment Research said the carrier is investing disproportionately in its wired network even as its wireless service lags behind other carriers. AT&T would have to invest an additional US$5 billion to bring its cellular service up to the level of its biggest competitor, Verizon Wireless, Hallaren said.
AT&T disputes that analysis, but as a 3G customer, I don't really want to parse the company's financial plans. I just want better service — or the right to take my business elsewhere.
Apple had a great December quarter, to be sure, but analyst Trip Chowdhry of Global Equities Research noted that the company's sales of iPhones were lighter than expected, probably because sales of Android phones by Verizon and Motorola are stealing some market share.
If Apple doesn't end its exclusive deal with AT&T, those market share numbers are going to drop even more, and a lot of customers will continue to be very angry, indeed.
San Francisco journalist Bill Snyder writes frequently about business and technology. He welcomes your comments and suggestions. Reach him at bill.snyder@sbcglobal.net.