Today is the big day. In less than four hours Apple will bestow upon the world its latest creation–the Apple tablet PC. Officially, that is still rumor and speculation, though…wait! I have independent verification that an Apple tablet must exist because it is being offered right now–as I type–on the eBay auction site.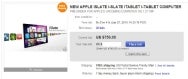 At the major press event, Apple is also expected to possibly unveil the latest iPhone operating system–iPhone 4.0–and perhaps even the next generation of the actual iPhone handset, the iPhone 4G. Of course, that is mere speculat….hold on. Apparently the iPhone 4G is being offered on eBay as well and it's a bargain at the current bid of $105, although it is listed as "used".
Reality check. Neither the Apple tablet nor the iPhone 4G, both of which may or may not even exist, or if they do may not be in production and available until later this year, are actually available on eBay.
Scammers and malware developers will do everything they can to capitalize on the hype with Apple. Sadly, there are enough suckers…I mean naïve people in the world that it's not hard to find a buyer for a counterfeit Apple tablet, or iPhone 4G, or any other hot or rumored technology. Case in point: as of this writing, the Apple tablet on eBay has 28 bids, and the iPhone 4G has 6 bids.
Fake products being offered on eBay, or Craigslist, or other such online auction and classifieds sites are one thing to watch out for. You should also be more cautious about e-mail, Twitter tweets, Facebook status updates, and other communications related to these devices–especially if there is a link involved, and even more so if it is a shortened link so you can't even identify the destination URL.
Based on past events, it is fair to assume that we will see some phishing attacks geared toward exploiting the hype around these Apple devices. Cyber attackers determined long ago that one of the easiest ways to lure unsuspecting victims to their doom is to use bait that is ripped from the headlines. Interest is already high, and there are so many legitimate stories and links that users are caught off guard and have a more difficult time separating the malicious from the authentic.
Here are some basic precautions you should take:
1. Its Too Good to be True. What are the odds that a secret device that may or may not even exist is already available for bidding on eBay? Virtually zero. You don't even need to consider any farther than that.
2. Verify the Seller. Fast forward a few weeks or months. Assuming Apple does launch a tablet PC and/or an iPhone 4G, they will eventually find their way onto eBay and Craigslist. Make sure you only purchase such devices from reputable sellers with solid reputations.
3. Protect Your PC. Make sure you have antimalware protection installed, running, and up to date. There are free products available like Microsoft Security Essentials that will do the trick.
4. Don't Click that Link. Does your co-worker typically forward you links about the latest tech gadget? No? Then it seems suspicious that she would choose to do so now, doesn't it? Consider the source of the message and whether or not it seems reasonable that individual would send the link. If you aren't 100 percent sure, don't click the link.
5. Uncover the Link. If you do feel a need to click on a link, at least make sure you know where it goes. Shortened URL's like those commonly used with Twitter obscure the real destination and can be used to trick users into visiting malicious sites.
Exercise a healthy dose of cautious skepticism, and be extra cautious about any links and news related to the Apple tablet and iPhone 4G. Bottom line, if it seems too good to be true, it probably is, and if the devices exist there will be enough legitimate, reputable sources of information that you don't need to resort to visiting shady links to get the scoop.
Tony Bradley tweets as @Tony_BradleyPCW , and can be contacted at his Facebook page .