Call Apple's tablet the iPad, because that's what Steve Jobs does, and hey, it can play games! Thank goodness, right? Apple's iPhone didn't for years, and even Apple probably realizes what an embarrassing mistake that was.
It also packs in 802.11n WiFi, Bluetooth 2.1 + EDR, a speaker and mic, a compass and an accelerometer, and retails in its most basic configuration for just $499.
So while my colleagues are poring over its ramifications in dozens of other areas, let's talk about the iPad and gaming, or at least what Apple wants us to take away from the media circus that's wrapping up as I type this. For starters, it's extremely thin and light, which means three things: It'll be a delight to tote, perhaps a trifle vulnerable if dropped or caught between heavy objects, and–yep, it'll have pretty abysmal battery life.
Apple claims 10 hours battery life, which you can already assume is like the EPA's mileage estimates for cars (read: Not so much). In fact at least one beta tester who had the thing for the last 10 days apparently estimates it's more like three hours if you're running a game full-out.
That's still notably better than a serious gaming laptop (by comparison, my eight-pounder runs for an hour, cordless, tops) but dramatically less than the Nintendo DS or Sony PSP, which can either approach or exceed 10. For example, my PSP 3000 with the 2200 mAh battery upgrade almost gets me across the pond and back–Detroit to London to Detroit–on a single charge.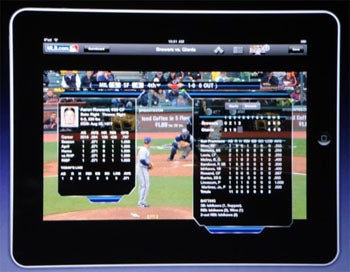 Under the iPad's hood, you're looking at a 1GHz Apple A3 chip, basically an all-in-one processor that handles core crunching as well as audio-video math processing typically reserved for discrete silicon. You don't get much in the way of storage, though. Apple says between 16 and 64 GB of flash storage internal, which means–sorry Blizzard wonks–you won't be running anything like World of Warcraft on it.
As for how you control the thing, it's gesture-driven, just like the iPhone, so think "super-sized" mobile and you've got the essence of what Apple's up to from a gaming angle. In fact the iPad can download and run nearly any iPhone app out of the box. Apple demonstrated an iPhone racing game running at a 1-to-1 pixel ratio center-screen (about a quarter active space, the rest framed by black) then showed how the iPad could interpolate the pixels to run at about two-thirds screen size. It looked a little blurry, and harked back to what console gamers were doing a generation ago, but I'm convinced Apple's not courting the high end at this point.
How does it handle in games? As noted, it's basically a giant iPhone, so you're using gestures or tapping on hot points to execute actions. Imagine swishing your fingers across the screen to fling a grenade, or using three fingers on screen at once to open a door. (Apple's apparently familiar with sci-fi author Orson Scott Card, since they're describing more or less how the school tablets work in Card's Hugo and Nebula winner, Ender's Game.)
The screen sounds like the sweetest aspect, an in-plane switching 9.7-inch LED, which makes for a brighter, better display, but uses more power than a standard TFT setup. Form over function? Maybe. It wouldn't be the first time Apple swapped substance for style.
The bottom line? If you're a casual gamer, say someone who fiddles with stuff on your iPhone between meetings (or during them) or on planes or in line waiting for movie tickets, think of this as a kind of middle-ground between your phone and your laptop. You want to play slightly more sophisticated games on a multiple-use computing device and don't mind using a gesture-driven, non-deterministic interface to do so? Here's your new toy.
The rest of you? Wait for someone to bring the killer apps, because at least from a gaming angle, what Apple demonstrated at today's show was just an evolutionary extension of its i-brand family.
Connect with me on Twitter @game_on