Apple on Wednesday launched its much-awaited iPad tablet device, a handheld that will allow users to view movies, surf the Internet and play high-definition games.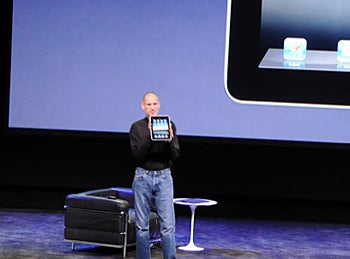 "We want to kick off 2010 by introducing a truly magical and revolutionary product," Apple CEO Steve Jobs said, after taking the stage in front of a throng of media and IT luminaries at the Yerba Buena Center for the Performing Arts in San Francisco.
"Everybody uses a laptop and smartphone. A question has arisen: Is there room for a third device between a [laptop] and smartphone?" Jobs asked. "We've got something that is. We call it the iPad."
iPad features include the ability to browse the Web and listen to music, with photo, calendar, and maps applications. It will work with the iTunes store to let users discover and purchase music, movies and TV shows, Jobs added.
When the iPad is turned sideways, it orients the view for the user. "It's a dream to type on," Jobs said, demonstrating that feature.
The product's launch comes after a few years of rumors and speculation surrounding Apple's development of a tablet-like device. Media outlets and enthusiast sites reported the device would fill a product gap for Apple between its iPhone smartphone and MacBook device. The Financial Times reported in December that Apple would host an event to launch the tablet-like device in January.
But Apple isn't the first company to launch a tablet. Some of the top PC makers including Dell, Hewlett-Packard and Asus showed off multimedia tablet prototypes with different screen sizes at the Consumer Electronics Show earlier this month. Many of those handheld devices were based on Google's Android Linux OS and provided the ability to surf the Internet, view multimedia and read e-books.
An HP Slate running Windows 7 was shown by Microsoft CEO Steve Ballmer during a keynote address at CES. The Slate will ship this year. Dell also reminded everyone that it is developing a similar device, showing a tablet with a 5-inch screen.
Executives from PC companies have said the rapid growth of mobile Internet and touchscreens created a new class of tablet computing devices. But Apple has an edge over the PC makers as it has a history of introducing products like the iPhone and iPod that have changed the way devices are designed.
The rumors helped Apple define the tablet market even though it hasn't shipped a device, said Roger Kay, president of Endpoint Technologies Associates in a research note sent in early January. Tablet launches by other PC makers were perhaps triggered by Apple's threat to enter the market.
"One has to wonder, if Apple were not aiming at this market with its trademark accuracy, whether the rest of the industry would
care so much," Kay wrote.
(Additional details to come.)