I had the opportunity to spend some hands-on time with the long-awaited Apple iPad tablet after today's much-hyped press event. Unfortunately, I was a bit underwhelmed: I can see a lot of really useful applications for the iPad, but the reality is that it looks and behaves like an iPhone (or iPod Touch) on steroids. And that's not exactly a good thing.
Hardware: Awkward to handle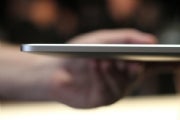 While the iPad is super slim at only a half-inch thick, I had some difficulty handling it. At 1.5 pounds, it is too heavy to hold in one hand, which is troublesome if you plan on using it as an e-reader. Other e-readers, like Amazon's Kindle 2 or the COOL-ER e-reader, are much lighter in hand and therefore make for a much more comfortable user experience. Using two hands is much more comfortable, but if you're reading a long novel, that could get quite tiresome.
Compared side-by-side, the iPad's 9.7-inch 1024-by-768-pixel LED-backlit display appeared dimmer than my iPhone 3G's (auto-brightness disabled, brightness set to maximum). Whites, in particular, looked much brighter on my iPhone. Apple had no comment, however, when I inquired about the difference. Although, one Apple spokesperson pointed out that a phone–which we expect to use outdoors as easily as indoors–might need to be brighter.
iPad OS: A giant iPhone interface
One of the biggest rumors leading up to the event was that iPhone OS 4.0 would be released in conjunction with the iPad. Instead, the iPad is running iPhone OS 3.2 (which has not been released for actual iPhones yet).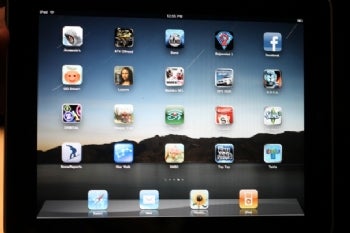 The lack of a fresh, new interface for the iPad is disappointing. There might be some incremental differences between versions 3.1 and 3.2, but to me on the surface, the iPad's interface looked exactly like a blown-up version of my iPhone 3GS'. And in my opinion, the OS doesn't translate very well from the much smaller iPhone 3G to the iPad. It's not so much about the touch aspect of the interface; in fact, navigating by touch is a huge benefit on this roomy screen, superior to, say, the joystick-based navigation of the comparably sized, non-touch Amazon Kindle DX screen. But images, icons, and text aren't as crisp as expected on the higher-resolution iPad. I found it much like watching standard definition video on an HDTV; Apple doesn't seem to have optimized the operating system's visuals for the iPad's display.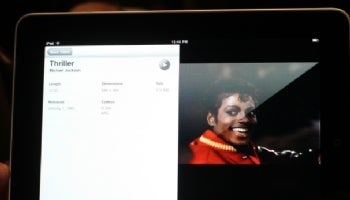 Because of the larger display, pretty much all of the native applications we're used to viewing on the iPhone look and function better on the iPad. Video playback, in particular, is stunning on the iPad, but we're disappointed by the lack of Flash support (though that exclusion wasn't exactly surprising, it remains a grievous omission).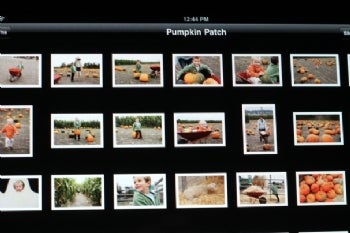 As a photo viewer, the iPad shines. Photos looked superb on the iPad's display, and it uses all of the familiar multitouch gestures (flick, pinch to zoom) found on the iPhone's photo app. The iPad's photo application is much better than the iPhone's, too, with on-the-fly slideshow creation (complete with transitions) and different ways of viewing the images (including sorting by places, people, events, and a mini-thumbnail bar at the bottom of the screen to jump quickly to other photos in the album). Unfortunately, the sorting capabilities will only work if you're using iPhoto–which means that those of who use any number of alternative imaging applications for the PC or the Mac (the majority of potential iPad users) are left in the dark with regard to those features.
Touch keyboard disappoints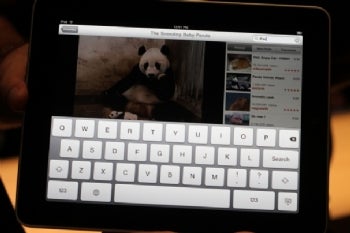 Like the rest of the OS, the touch keyboard is a larger version of the iPhone's. But unlike on the iPhone, the keyboard has no letter magnification when you press a key, and I found I missed this visual cue immensely. And unsurprisingly, it lacks haptic feedback (part of Android phones). You get no physical or visual feedback when you press a key and that's frustrating if you're trying to pound out a long e-mail. The experience, oddly, is akin to typing on the native Android OS' touch keyboard.
Using the keyboard in vertical mode, my small hands had difficulty maneuvering around the keyboard–my thumbs couldn't stretch across the whole device to reach the keys. Horizontal mode felt much more natural, but as a touch-typist, I still made more errors than I would with a physical keyboard.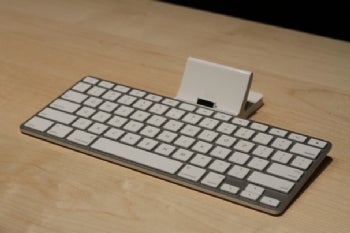 Apple will be offering a keyboard dock accessory, which gives you an actual physical keyboard to work with ($69). You can also place it in the iPad Case ($39), which allows you to angle it slightly. This feels much more comfortable than just laying the tablet flat and typing. Both of these items are sold separately, though.
iPhone apps don't fly on iPad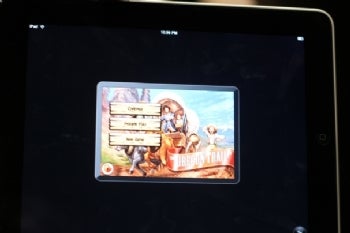 One of the big concerns among developers and users before the iPad's announcement was whether iPhone apps would work on the device. Thankfully, they do, but the experience isn't exactly ideal. You can either view an iPhone app as a small window or doubled to fill the display. I demoed the Assassin's Creed and Oregon Trail apps, and was put off by the obvious pixelation. Text in Facebook looked fuzzy, too.
Clearly, this an interim fix until actual apps are developed for the iPad. And I expect many app makers will create versions optimized for iPad. I see a lot of gaming potential for the iPad, but cool 3D graphics game like Assassins Creed just doesn't work on the iPad.
Luckily, the iPad isn't shipping for another 60 days, so hopefully more content will be developed by then. And who knows? Some of the issues I've noticed on this demo unit may be fixed by then.
Right now, I'm not sold on either the hardware or the software. But excellent, optimized content might change my opinion.