For a service as photo-oriented as Facebook, the simple act of downloading photos is annoyingly complicated. In fact, there is no download option; you have to view each photo in turn, right-click it, and choose Save Image As or Save Picture As (depending on your browser).
So what happens if a friend posts a bunch of pictures you want to download? Are you really supposed to go through and save them one by one?
Not if you install the FacePAD plug-in for Firefox. Short for Facebook Photo Album Downloader, it does exactly what its name implies: downloads entire albums at a time.
After loading the plug-in and restarting Firefox, click Tools, Add-ons, find FacePAD, click Options, and choose your language. Click OK and you're good to go.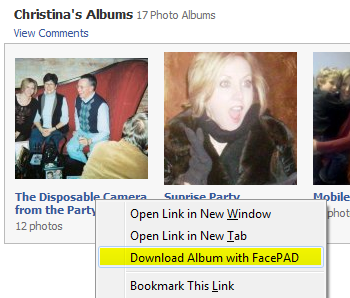 To use FacePAD, just navigate your way into a friend's photo library (or even one of your own), right click an album link, and choose Download Album with FacePAD. In a matter of minutes the plug-in will plunk every photo into your default Firefox Downloads folder.
It's too bad you can't specify a folder or do any batch-renaming; all the photos end up with cryptic numerical filenames. Still, FacePAD works as advertised, and it's a damn sight easier than retrieving each photo manually.
By the way, in case you missed it, be sure to hit yesterday's post on removing annoying messages from your Facebook home page.