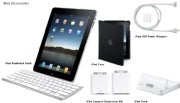 The tech world has said too much about the iPad already, and we're just getting warmed up. There are still lots of unanswered questions. Take connectivity, for instance. We know the iPad has 802.11n, Bluetooth 2.1 + EDR, and optionally 3G wireless support. There have been precious few accessories announced thus far, tough. We know the story with connecting the iPad to the Web, but what about making local connections?
If you want to use a Bluetooth keyboard, you're supposedly in luck, as we hear those will be supported. We would assume the same could be said of Bluetooth stereo headphones, since the iPhone 3G and 3GS support A2DP to do just that. But can you sync up a Bluetooth headset (for VOIP calls, for example) the way you would with an iPhone? The details of what works and what doesn't among Bluetooth devices is a bit fuzzy.
Then there's printing. Clearly, one would expect to be able to print from the iPad. It has iWork, after all! You'll be typing essays and epic poems expressing your love of Apple in Pages and calculating how much money you save by not buying Windows in Numbers. Still, we haven't seen a single "print" icon or menu item yet. We don't suppose you'll be able to plug a USB printer into the device (even with a dongle for the 30-pin connector) but network printers are quite common. If the iPad could print to a network printer, one would think Apple would have mentioned so.
What about all those iPod music docks? Speakers and radios and boom boxes with iPod connectors on them? Certainly the iPad won't fit into the dock itself, but might it work with these audio accessories with a male-to-female 30-pin connector cable?
At least one question has been answered – you can connect the iPad to your TV. The specs page claims "Support for 1024 x 768 with Dock Connector to VGA adapter; 576p and 480p with Apple Component A/V Cable, 576i and 480i with Apple Composite Cable." So you can hook it up to your TV and get sort-of hi def output if you have a VGA input on your TV, and are otherwise limited to standard def TV output. Pretty lame, considering the device's support for 720p video.
Among the announced accessories is a 30-pin to SD card dongle and a 30-pin to USB dongle. In other words, the iPad Camera Connection Kit. What we don't know yet is exactly what you can do with those SD card and USB ports. The description of the Camera Connection Kit makes it sound like it exists only to pull photos from your camera. What if you put documents for iWork on an SD card or USB memory stick? Can you read and edit them? If not, why not?