Now that Apple has officially unveiled the iPad we can move beyond hype and speculation about what the Apple tablet might be, and move on to talking about all of the rumors that didn't pan out, and predicting whether the device will ultimately fail or succeed. One rumor that apparently didn't make the cut for the iPad unveiling was that it would be offered by both AT&T and Verizon.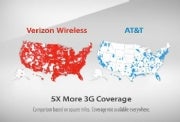 That rumor also fueled the additional speculation–a common and recurring theme–that Apple would also end its exclusivity arrangement with AT&T for the iPhone and begin to offer it through other U.S. wireless providers as well, namely Verizon.
Despite the rumors, the writing was on the wall before the big iPad unveiling. On Tuesday during the Apple earnings call, Apple chief operating officer Tim Cook responded to iPhone exclusivity questions by defending AT&T, saying "In the vast majority of locations, we think that iPhone customers are having a great experience."
Not that Apple hasn't done quite well with AT&T as the lone provider of iPhones. Apple has established the iPhone as a dominant smartphone in the United States and around the world. Revenue from iPhone sales is part of what has driven Apple to record profits and Apple stock to record highs. Still, analysts have predicted that Apple could double the success of the iPhone by ending exclusivity.
Apple's tacit support of AT&T may be more of a commentary on the underlying technology than the provider itself, though. The iPhone is designed to work with GSM cellular networks, as is the iPad. If Apple is interested in expanding iPhone distribution it needs to add CDMA functionality, design a separate CDMA-compatible version, or resign itself to doing business with only AT&T and T-Mobile.
Regardless of Apple's reasons for doubling down on AT&T, it is hard to imagine how AT&T will handle any additional influx in data demand on its already-faltering network. AT&T's issues with data speeds and 3G availability, and the finger-pointing as to whether AT&T or the iPhone itself is to blame have been a point of contention for months.
Then there is the matter of coverage. As Verizon's "There is a Map for That" marketing campaign has made painfully obvious, AT&T actually doesn't even provide 3G network coverage in the vast majority of the United States. It does provide EDGE connectivity so users can access data from virtually anywhere, however EDGE is not as fast as 3G, and AT&T's competitors are already looking beyond 3G to 4G network speeds.
Assuming the iPad is even marginally successful, the additional strain on the AT&T 3G network could cripple it completely. iPhone users have higher than average data demands, but the device is still, first and foremost, a phone. With the iPad, the primary function will be Web-surfing and data consumption–lots of it.
While nobody predicted the spike in data demand AT&T has experienced from iPhone users, analysts have blamed AT&T for not investing sufficiently to expand and improve network capacity to keep up with a growing subscriber base with higher data demands. Estimates say that AT&T needs to invest between $5 Billion and $7 Billion to improve its infrastructure to meet its customer's needs.
With the iPad unveiling AT&T has dodged the exclusivity bullet–again. Whether it is truly a sign of Apple's faith in AT&T, or more a reflection of Apple's unwillingness to embrace CDMA, AT&T lives to fight another day. However, both Apple and AT&T will suffer if AT&T doesn't start filling in that map with some stable and robust 3G connectivity.
With free Wi-Fi available virtually anywhere–including McDonald's which you can find on just about any street corner, I personally don't see the value in the 3G iPad at all. I can't see any point in paying more money to buy a 3G capable version, then paying an additional $30 a month for service on a network that is sparse and flaky as it is.
Just hook me up with the $499 Wi-Fi iPad and I won't even have to concern myself with AT&T's network woes.
Tony Bradley tweets as @Tony_BradleyPCW , and can be contacted at his Facebook page .