Here is a philosophical iPad question: What is it? Perhaps the best way to explain the iPad is to call it a jack-of-all-trades. It has all the functionality of the iPod Touch, including gaming, music, and video. But it's also a day planner, e-mail device, Web tablet, e-book reader, digital picture frame, and arguably a netbook replacement. So does this mean the iPad will be replacing any of your digital gear anytime soon? To answer that question let's take a closer look at how it matches up to the competition.
Below is a quick breakdown of the iPad specs against those of the Kindle DX, Asus Eee PC 1005HA and PSP Go. These comparisons might be a little unfair, but all of these products are what you'd call "third space" devices. That is, the piece of hardware you're willing to spend your money on after you've bought a personal computer and a mobile phone. Which one would you buy?
(Click on any of the charts below to enlarge)
iPad vs. Kindle DX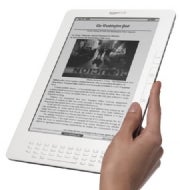 The iPad versus the Kindle DX comes down to this essential question: would you prefer an e-ink display for reading? If you want e-ink because it so closely emulates paper, then the Kindle is the device for you. But if you don't mind an LED-backlit display, you can drill a little deeper.
The Kindle comes with a free 3G data connection, but it'll cost you extra if you do much else other than download books (Amazon charges you for downloading data other than e-books). Amazon's new Global Wireless program also lets you use your Kindle all over the world. Apple's iPad requires a monthly data plan from a carrier that supports micro SIM cards (so far just AT&T in the U.S.). However, you could also opt to do without 3G and stick with Wi-Fi on the iPad.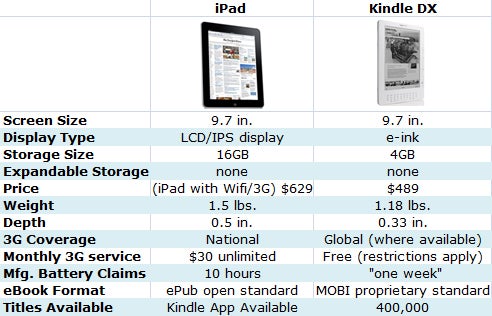 There's also the question of how many books will be available when the iBookstore launches compared to the Kindle's 400,000-title library. But in addition to iBooks, the iPad should be able to run the Kindle app for the iPhone plus any other e-bookstore iPhone app, which potentially gives the iPad a much larger selection than the Kindle.
iPad vs. Asus Eee PC 1005HA
This matchup is a little ridiculous since the Asus Eee PC 1005HA is a mini-laptop and the iPad just isn't. But if you're looking for a device that's easy to travel with, can get you online, and provides with you a suite of office applications, then the comparison is worth considering. As a netbook, the iPad loses a little in terms of portability, because you'll have to carry around two parts (iPad and keyboard dock), and it's not clear how practical it will be to carry around the keyboard dock.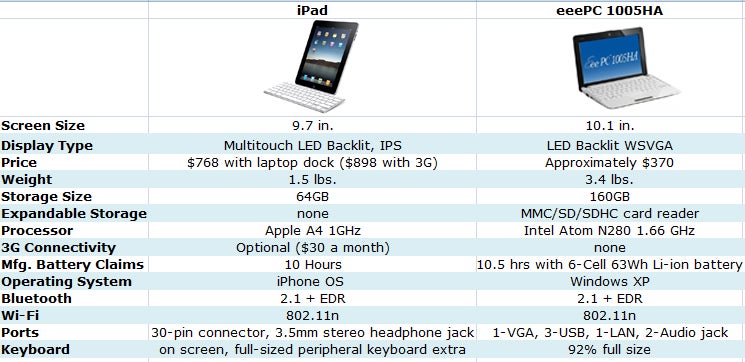 The iPad also loses on price, screen size, and storage compared to the Asus netbook. But the iPad wins in weight, processor speed, 3G option, and possibly battery life. The biggest downside, however, is that the iPad will only let you operate one program at a time. That might change in the future, but for now the lack of multitasking is a big deficit for the iPad.
iPad vs. PSP Go
Apple has been known to be a little too exuberant about the gaming potential of its devices, but the iPad could find a niche among some gamers. The iPad costs almost twice as much as the PSP Go, but for the extra money you get a bigger screen, better resolution, and faster processor. The PSP Go has more popular titles, more intricate gaming, physical controls, and expandable storage. But the iPad has the better Wi-Fi standard, slightly newer Bluetooth, and a 3G option. The PSP and iPad both have other functions like music, video, photos, and Web browsing, but the iPad's touchscreen and larger display gives it the advantage in these areas.
It's clear the iPad has more flexibility and a few advantages over these competing multipurpose and single-purpose devices, and the price is quite good. But what do you say? Is the iPad the device for you?
Connect with Ian on Twitter (@ianpaul).
iPad (2010)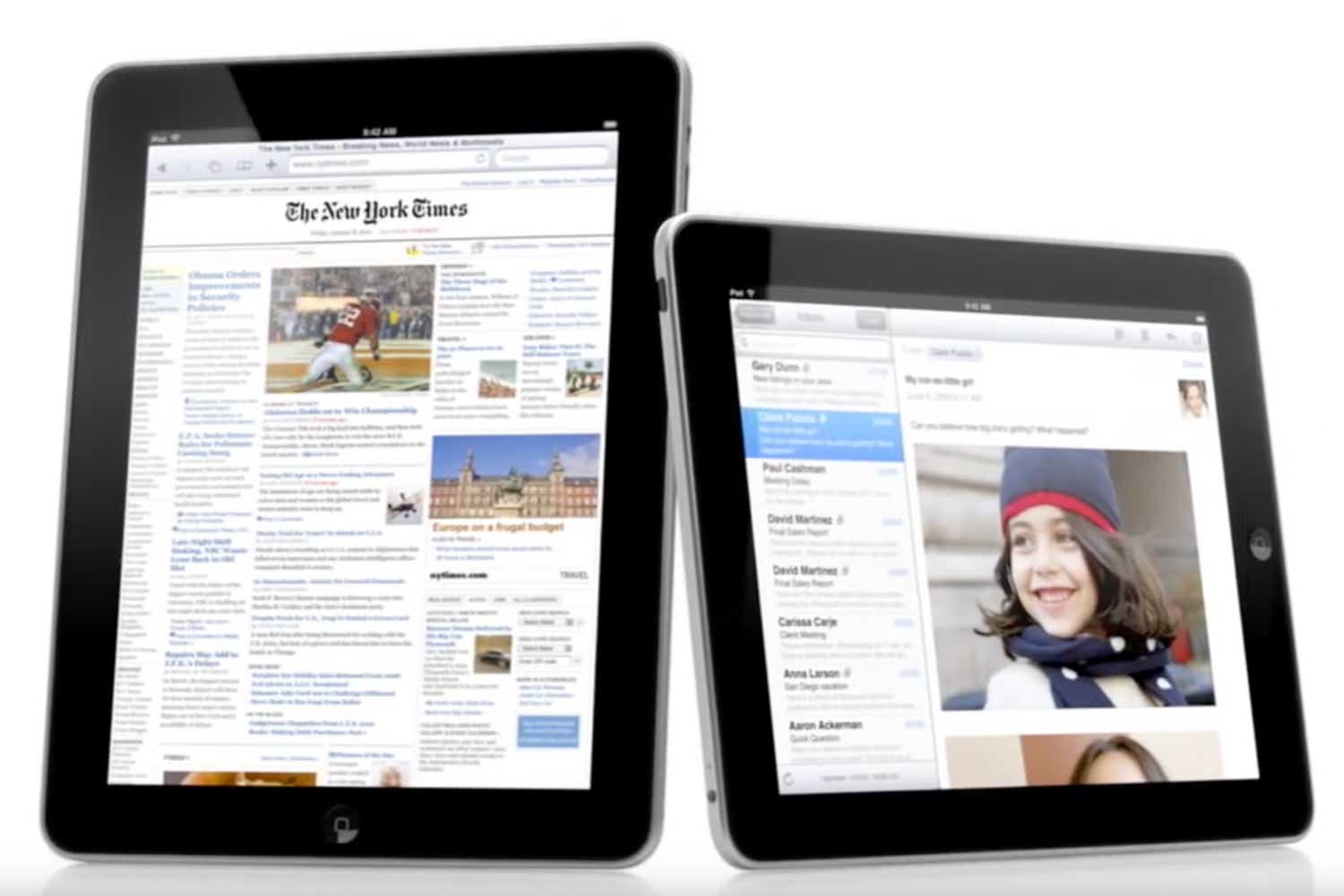 Read our full
Review iPad (2010)