Duplicate File Hunter is a welcome app indeed. While other operating systems have commands to root out duplicate files (instantaneously in the case of Linux), it's next to impossible to do so in Windows. Duplicate File Hunter is free and useful, but it's not without its quirks.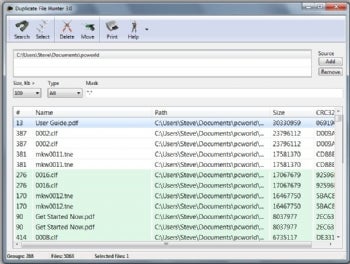 Most apps that search, such as a virus scanner or Google Desktop, will give you a running count of which files and directories it is searching in. Not Duplicate File Hunter. It has just a pop up window with a timer, counting up, and a message that says "Please wait some minutes." You have no idea how long it will take to search your entire system for duplicates. In this case, I left it running on a PC with a 1GB internal drive overnight (checking after several minutes and then turning in), and when I checked it the next morning, it was finished. Expect it to take as long as a virus scanner.
In another test run, I chose a small subdirectory with not many files in it, and the search still took several minutes–longer than I expected. Efficiency is something that developer Styopkin will need to work on for future iterations. Also, it plays a gunshot sound effect when finished, which could be pretty frightening in some circumstances. There should definitely be an option to change that, but if there is one, I couldn't find it.
After Duplicate File Hunter finds the duplicates, it creates a nice list of them, which you can easily sort by a number of different critieria, file size being the most useful. The best thing to do is to stop at this point, now that you know where the duplicate files are, and go find them and delete them yourself. The reason for that is, I right-clicked on a file and selected "safely select duplicates from this folder in all groups." This is meant to select every duplicate in the same folder as the file you just selected. Instead, Duplicate File Hunter froze up. I went back and just deleted files with Duplicate File Hunter instead, and it worked fine. That one function, though, is consistently buggy as of version 3.0; I did two searches in different directories and tried the function, and it crashed both times.
As long as you leave the list as is, Duplicate File Hunter still has its uses. Just don't try to have Duplicate File Hunter do much with the duplicate files after it finds them, or it'll lock up.
Note: See PC World's recent review of Fast Duplicate File Finder for a similar freeware program.