Steve Jobs pitched the iPad on Wednesday as a device that lets you browse the Web the way it was meant to. Yet his demo of the iPad clearly showed that there wouldn't be any support for Adobe's proprietary Flash platform. Perhaps this was intentional.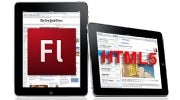 The lack of Flash support on the iPhone has been fuelling debates since the smartphone was launched almost three years ago; yet by now, most users agree that the lack of Adobe Flash support for it is not essential to its 3.5-inch multitouch display.
But many find the lack of Flash on the iPad unacceptable, since one of the main aims of the tablet is to browse the Web at its full potential — without Flash, that is. Adobe has been quick to criticize Apple for the lack of Flash support, saying that more than 70 percent of games and 75 percent of video on the Web runs on it.
CNN, Hulu, Disney, and Farmville are only a few of the thousands of applications that won't work on the iPad — they all run on Adobe Flash. Yet this is not a surprise. Apple must have a really good reason not to enable Flash on the iPad, both technical and political.
A viable explanation on the lack of Adobe Flash support come from Daring Fireball's John Gruber, who predicted the iPad's incompatibility with Flash before Wednesday's event. To sum it up for you, Adobe Flash on the Mac is resource hog and a leading source of application crashes, and there is a big chance the same would happen on the iPad.
Basically, because Adobe Flash is a proprietary platform, Apple programmers can't fix it or optimize it in case of bugs, Gruber explains. The new in-house designed A4 chip found in the iPad might also have something to do with the lack of Flash on the iPad. Analysts are also predicting the A4 chip will filter down into new iPhone models, expected this summer.
Instead of Adobe Flash though, Apple is banking on the new HTML5 standard, which is still in its early days. YouTube and Vimeo are among the first video services to announce their transition to the new standard, but HTML5 still lacks support for game creation or advanced video features.