It looks like Apple and Fujitsu could be locked in a protracted battle to settle a trademark dispute over the name iPad. On Wednesday, Apple unveiled its oft-rumored tablet device now known as the iPad, but that's also the name for a handset released by Fujitsu in 2002.
The problem is the U.S. Patent and Trademark Office declared in early 2009 that Fujitsu had abandoned t
he iPad trademark, which left it in the clear for Apple to snap up. However, just as Apple was tinkering away on its iPad, Fujitsu said in June 2009 that it wanted its old trademark back.
Right now, it's unclear who will win the iPad trademark, but if I had to place a bet on either company, I'd put my money on Apple to come out as the victor. Apple has a history of naming its products first, and worrying about trademark litigation later.
The most famous example might be its now-settled problems with Apple Corps — the record company for the legendary rock band the Beatles. But Apple has been involved in many other trademark disputes as well. Some involved long negotiations, some ended amicably, and some Apple just walked away from. Here are the highlights from Apple's checkered trademark past:
The iPod
Did you know the iPod started its life in the computer industry as a public computer terminal? Joseph N. Grasso registered the iPod in 1998 as a tradem

ark for a device described as a "public Internet kiosk enclosure containing computer hardware."
The commercial debut for the Grasso version of the iPod happened two years later on January 15, 2000. Grasso reportedly signed the trademark over to Apple by 2005.
Here I Come To Save The Day!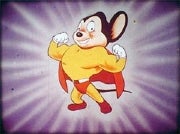 Apple used the name Mighty Mouse between 2005-2009 for its multibutton computer mice. But the moniker is most closely associated with the super-powered rodent with an operatic battle cry created by the Terrytoons studio in the 1940s. Apple reportedly licensed the name Mighty Mouse from CBS to avoid any complications with the cartoon hero's trademark rights.
Unfortunately for Apple, a company named Man & Mouse was awarded a trademark for the name Mighty Mouse in late 2009. The timing was particularly bad since Apple was about to add a multitouch mouse to its Mighty Mouse line. But instead of entering into a protracted legal battle with Man & Machine, Apple named its new device the Magic Mouse.
iPhone
Apple has engaged in several disputes over its use of "iPhone" since the device's debut in 2007. Apple recently secured the rights to the name in China, and the company negotiated its way out of an iPhone dispute with a

Japanese company named Aiphone in 2008.
But the most infamous iPhone dispute is Apple's wrangling with Cisco Systems. Cisco filed a lawsuit against Apple over the name iPhone the day after Steve Jobs presented his game-changing device at the Macworld Conference & Expo in 2007. Linksys — a Cisco company and popular maker of network routing equipment — became the proud owner of the iPhone trademark after it acquired a company called Infogear Technology in 2000. While Apple's iPhone is a cell phone, Cisco's iPhone was a telephone for use with Voice over Internet Protocol (VoIP) services.
Apple and Cisco had reportedly been negotiating terms for Apple to license the name from Cisco for more than two years, but had not yet reached an agreement when Jobs unveiled the device at the Macworld Expo.
Apple and Cisco settled their differences about a month and a half after Cisco filed its lawsuit. Under the agreement, both companies are free to use the iPhone trademark in their respective products throughout the world, and agreed to "explore opportunities for interoperability in the areas of security, and consumer and enterprise communications." Other terms of the deal were not made public.
Macintosh
The legend goes that Apple decided on the name Macintosh for its personal computer first released in 1984 because of Apple employee Jef Raskin's passion for the red-skinned McIntosh apple. But App
le's decision to stick with that name ended up costing it some serious settlement dollars on at least two different occasions. In 1983, Apple licensed the name from McIntosh Labs, a maker of Hi-Fi equipment. Later, in 1986, Apple paid McIntosh Labs a fee for permanent rights to the Macintosh name. In 1985, Apple resolved another trademark dispute with Management and Computer Services Inc. (MACS), a Philadelphia-based software company, according to Wired.
The financial terms for both agreements were never disclosed, but Wired found a passage from Odyssey: Pepsi to Apple, the biography of former Apple CEO John Sculley, that says Apple paid out almost $2 million to secure the Macintosh name from other companies. It's not clear if there were any other settlements besides those with McIntosh Labs and MACS.
Clearly, Apple is a practiced hand at resolving trademark disputes. So don't worry, iPad fans, the name will likely stick to Apple's new gadget regardless of the implications, legal or otherwise.
Connect with Ian on Twitter (@ianpaul).