The recent flurry of rumors predicting the end of AT&T's arrangement as exclusive provider of the Apple iPhone were apparently false. In fact, not only did Apple not announce the demise of exclusivity, it doubled down on its exclusive arrangement with AT&T by revealing AT&T as the sole provider of 3G wireless access for the upcoming iPad as well.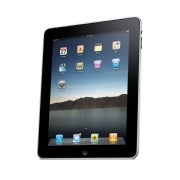 AT&T is already faced with numerous complaints of poor or slow data bandwidth from business users and consumers alike, particularly in metropolitan regions like New York and San Francisco where iPhone use is exceptionally heavy. Judging by the maps in the Verizon ads, if you venture outside of those urban areas you might be lucky to find a 3G connection at all.
I predicted that the addition of the iPad, a device more dedicated to data consumption than its iPhone cousin, could be the straw that breaks the proverbial camel's back and bring AT&T's network to its knees. However, AT&T addressed many of those concerns on its quarterly earnings call on Thursday.
It was revealed on the call that AT&T has twice as many smartphone users as its nearest competitor, and that AT&T has experienced a 5,000 percent spike in broadband data consumption since introducing the iPhone. The explosive growth in data demand was both unprecedented and unexpected, and could explain some of the challenges the AT&T network has faced.
In 2009, AT&T added 1,900 new cell sites, expanded 3G coverage to over 360 markets, reaching an estimated 75 percent of the population, and added 850MHz 3G–improving the range and strength of the 3G signal. It also enabled HSPA 7.2 throughout the network, speeding up the 3G download speeds.
Speaking to analysts on the earnings call, John Stankey, president and CEO of AT&T Operations, said "We're very pleased to say that one of the 7.2-enabled devices that will have connectivity on our network is Apple's new iPad, which was unveiled yesterday."
Stankey added "we're really excited about the device, and we work closely with Apple in planning for its connectivity on our network. AT&T is a natural fit for the iPad, given the combination of the ever-improving speed of our 3G network and our robust Wi-Fi capabilities. We have a thorough technical understanding, with a good read on the iPad's usage requirements and characteristics, and all that is included in our network plans for 2010 in the plans I'm sharing with you this morning."
AT&T has aggressive plans for 2010 as well, including investing over $2 billion to expand and improve the broadband data network. It plans to deploy fiber-optic backhaul which will increase 3G data speeds even further, as well as focusing on boosting data capacity in troubled areas like New York and San Francisco.
Overall, AT&T customers should be satisfied that AT&T is not deaf to their complaints, and that it is taking aggressive strides to improve the speed, availability, and stability of its 3G network.
As it relates to the iPad, though, I found AT&T CFO Rick Lindner's statement to be telling. "We believe, though, the device, based on where we believe it will be used–in homes, in offices, coffee shops, bookstores, airports, so on and so forth–will be used a substantial amount of time in a Wi-Fi environment. And so we'll just–we'll have to monitor this usage as the device gets out there. And if it's substantially different, we'll adapt to it. But right now, I think the economics will be very positive because it will be a very low-cost device for us–no cost, really, in terms of acquisition."
Translated, Lindner is saying that, although Apple will charge $130 extra for a 3G capable device, and AT&T will happily take your $30 a month for unlimited 3G broadband access, it is assuming that iPad users will rely primarily on Wi-Fi, so the $30 a month will be pure profit to AT&T with no impact at all to the 3G bandwidth.
That reinforces my belief that there is no point in paying extra for the 3G iPad, and that either Apple will just eliminate 3G from the mix and stick with Wi-Fi, or eventually phase out the Wi-Fi only version, and just offer the Wi-Fi plus 3G iPad for the lower price that the Wi-Fi models are being introduced at. Even if that happens, though, I see no reason to pay $30 a month for 3G connectivity when free Wi-Fi is fairly ubiquitous.
Tony Bradley tweets as @Tony_BradleyPCW , and can be contacted at his Facebook page .