Want to run Windows 7 on the new Apple iPad? Citrix says it will soon be possible–at least virtually–using a new version of its Citrix Receiver software.
Promised to be ready when the tablet computer ships in March, Citrix says the new software, based on the current iPhone version, is a response to questions about how the iPad might find a home in the enterprise.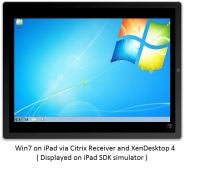 "If your company has XenDesktop or XenApp you will be happy to know you will be able to use your iPad for real work as well," wrote Citrix Vice President Chris Fleck in a company blog.
"It turns out the 9.7 inch display on the iPad with a 1024×768 screen resolution works great for a full VDI XenDesktop. Windows applications run unmodified and securely in the data center, and even multiple applications at once."
Citrix says the iPad's larger screen solves many of the challenges users' faced because of when using the iPhone with a virtualized Windows desktop. (Which sounds pretty painful, if you ask me).
"The iPhone restrictions of screen size and small keyboards are overcome with the iPad. The iPad looks to be an ideal end-point device that can empower users to be productive wherever they are and IT will be able to safely deliver company-hosted virtual desktops and apps without worry," Fleck wrote.
While it might be interesting to add iPads to a company's enterprise environment, Fleck admits the new Receiver software might also be a way for customers to justify the purchase of tablets that employees will buy anyway.
"Let us know how you're going to put it to work," Fleck writes, concluding his post, "Even if it's just to rationalize buying another gadget."
The iPad isn't likely to be perfect for many business apps, besides presentations, but companies already supporting virtualized desktops many find applications and users that make sense for Apple's new tablet.
(Here are my six reasons why you want an iPad, and six reasons you don't).
David Coursey has been writing about technology products and companies for more than 25 years. He tweets as @techinciter and may be contacted via his Web site.