Cloud computing. For some, the term is wildly nebulous. Not long ago, even Oracle's Larry Ellison publicly asked what the heck people meant by "the cloud."
For others, cloud computing instantly raises concerns about security and reliability. After all, Gmail, a popular cloud-based e-mail service that has endured some high-profile outages, didn't earn the nickname "Gfail" for nothing.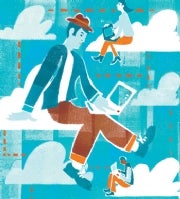 Before you dismiss the cloud as a lot of vapor, though, listen to what three small-business people told us about their experiences with it:
• "We saved over $4000 in up-front costs by moving to an entirely cloud-based solution [for e-mail, Web hosting, virus protection, and more]. We were also able to substantially reduce our power bill and the costs needed to maintain and upgrade hardware." –Bob Everett, president, Bottom-Line Consulting, a three-person firm offering various small-business services.
• "As a non-IT person, I find cloud-based applications easier to set up and use than many [computer] applications, and I don't need to rely on internal IT support as much for assistance." –Cristina Martin Greysman, executive vice president, business development, Vuzit, a six-employee software company.
• "A power surge nearly destroyed our in-house e-mail server. Had we not recovered it, a great deal of historical knowledge and valuable information would have been lost forever, not to mention the lost productivity for days or weeks. Now we have a secure, redundant, cloud e-mail system we can access anywhere, anytime, with a consistent interface, and it's made our business stronger." –Kevin Hart, partner and founder, Hart-Boillot, a ten-employee marketing and communications agency.
To be sure, cloud computing has its shortcomings (more on that later); but small businesses looking to cut computing costs and improve efficiency during this long recession are finding the many benefits of Internet-based software and services increasingly attractive. In fact, companies with 100 or fewer employees are expected to spend $2.4 billion on cloud computing services in 2010, up from $1.7 billion in 2009, according to Ray Boggs, vice president of SMB research for IDC.
Here's what you need to know about cloud computing: what it is, pros and cons, suggested services, and tips for applying it to your business.
What Does Cloud Computing Mean?

For decades, engineers have drawn a cloud to depict a network (such as the Internet) whose inner workings were unknown to them. From there, cloud computing evolved as a term to describe free or subscription-based services delivered in real time over the Internet.
Cloud computing can refer to software as a service, such as Salesforce.com for customer relationship management (CRM); to file storage, synchronization, backup, and other utility computing, such as Dropbox; and to infrastructure as a service, including Amazon's Elastic Compute Cloud, which delivers customizable computing capacity over the Internet.
For further discussion of what the cloud covers, see "Cloud Computing Explained."
Examples of Cloud Computing Services for Small Business
We queried dozens of small businesses about the cloud services they use, and why they use them. Among the most popular services were these:
• Google Apps ($50 per user per year) and Google Docs (free) are offerings from the Google cloud empire. Google Apps is a business-class version of Google Docs and includes souped-up Gmail, Google Calendar, and Google Docs (for word processing, spreadsheet, presentations and forms) components along with administration capabilities.
With either Google Apps or Google Docs, your data remains in one place no matter where you access it from, according to Brian Armstrong, founder of BuyersVote, a product review site that relies on Google's premium services. Despite Gmail's periodic outages, Armstrong says, Google's cloud tools are "actually more secure on the whole because, although you're trusting your data to an external provider, Google works hard to secure a ton of data; and it's the sort of attention to detail that you probably don't have time or money for in your local IT department."
• Box.net (free for 1GB of storage; $10 for an individual plan; $15 monthly for three or more users) is an online workspace service for file sharing and collaboration. Paul Rosenfeld, cofounder and CEO of Fanminder, a mobile marketing firm with 12 employees, calls it "incredibly easy to use and powerful": "Having a virtual team makes it nearly impossible to coordinate workflow without their tools," Rosenfeld says.
• QuickBooks Online ($10 to $35 per month), unlike QuickBooks installed on PCs, makes collaboration easy across a small team. "It enables our bookkeeper, accountant, and outsourced CFO to all look at the same up-to-date information to advise us on our financial situation," says Nicolas Boillot of Hart-Boillot, whose company uses the service.
• Skype is popular for its free video chats as well as for the low-cost calls to landline and cell phones that it makes possible. Brand Thunder, a browser customization firm with 11 members, uses Skype for all-team meetings, says Patrick Murphy, the company's founder and CEO. Though Skype call quality varies, the service "allows easy and open communication between team members, despite their being geographically dispersed," he says.
• Highrise for CRM and Basecamp for project management ($24 to $149 per month each, depending on the level of service you choose) both come from 37signals. A number of small businesses we contacted recommended these services for their feature sets and ease of use.
The Benefits of Cloud Computing
Cloud-based services can help small businesses dramatically reduce their software and other computing costs.
For example, Microsoft Office 2010 Home and Business will cost $199 for a downloadable version and $279 for a boxed version. By comparison, Google Docs, which offers office productivity tools via the cloud, is free. (Microsoft is currently working on Web-based versions of Office 2010 apps.)
Storing files on a secure, reliable, cloud-based service helps eliminate backup worries and gives you anytime access to your files. Usually, cloud-based services are simple to use—the only things you need are a computer (or in some cases, a mobile handset), a browser, and an Internet connection. And such services require no maintenance from the user.
Easier collaboration with colleagues in distant locations is another oft-cited cloud benefit.
"If you're the kind of small business that has employees who work from different places–or has remote employees, board members, or vendors who need access to your data–cloud computing is the only way to go," says Rosenfeld of Fanminder.
These benefits enable small businesses to "stay focused, be more collaborative, and bring products to market more quickly, because they've got access to the kind of infrastructure that only large companies used to have," says Judith Hurwitz, president and CEO of Hurwitz & Associates and a coauthor of Cloud Computing for Dummies .
The Cloud's Dark Side
The biggest misgiving that most businesses have about the cloud involves security, according to two recent surveys.
In a December 2009 Forrester Research survey, 51 percent of SMB participants said that security and privacy concerns were their top reasons for not using cloud services.
Similarly, respondents to an IDC survey in late 2009 said that their biggest worries about cloud computing were, in descending order, security, availability, and performance.
It's not difficult to find instances of security breaches in cloud computing, of course. On the other hand, you can't entirely eliminate risk from any computing environment. Intruders may hack into files stored on your business's own servers or hard drives. Hard drives may fail. Unencrypted information stored on laptops may lead to identity theft or lawsuits when the laptops go missing.
Cloud computing security lapses are "like airplane disasters," says Rosenfeld. "Trillions of transactions happen without any problem every day. You only hear about it when something goes wrong." Rosenfeld adds, "I know enough both to worry about [cloud computing] security and to not give it too much thought."
Here are some other commonly cited concerns about cloud computing:
• Privacy: How much data are cloud companies like Google collecting about you, and how might that information be used?
• Availability: Will your cloud service go down unexpectedly, leaving you without access to critical customer records, e-mail, or other information for hours or more? Gmail outages are widely reported, but Salesforce.com and other well-established services have gone dark on occasion, too.
• Data loss: Some online storage sites have shut down abruptly, sending users scrambling to recover their data, sometimes with only 24 hours' notice. And T-Mobile Sidekick users were unhappy to discover that their personal data had been erased from their devices–especially when Microsoft said that the data loss was irrevocable. (A few days later, Microsoft announced that it had recovered most of the data.)
• Data mobility and ownership: Will you be able to share data between different cloud services? If you decide to stop using a cloud service, can you get all of your data back? What format will it be in? How can you be certain that the cloud service will destroy all of your data once you've severed ties with it?
• Tool robustness: Cloud-based tools frequently aren't as powerful as software applications. Google Docs, for instance, lacks a number of features that Microsoft Office has had for years, such as the ability to track changes in a text file.
Tips for Moving Into the Cloud
Once you've weighed the pros and cons, you may be ready to take your first steps into cloud computing. Before you do, consider these tips from small businesses that have already made the transition.
• Start small. Cloud computing is a different way of working from what most people are used to, and building familiarity and trust takes time, says Trevor Doerksen, CEO and founder of MoboVivo, a 12-member video content portal/software company. Doerksen recommends starting small–for example, by having two or more workers collaborate on a Google Docs file. Once team members grow more comfortable with the new work environment, you can start adding more cloud services to the mix.
• Think big. Can the service you're considering scale to meet your needs as your business grows? If not, keep looking.
• Make sure you can export your data in standard formats. You'll want to be able to export in the formats used by Word, Excel, and other programs you use. That way, you can back up (and access) your data locally or move it easily to another service later.
• Read the agreement closely. To use the service, you'll most likely have to accept an endless service-level agreement or other contract at the outset. Read it carefully to ensure that you know what you're paying for, what the service provider's privacy policy is, whether there are fees for early termination, and so on.
• Get creative. Look for ways to use free or low-cost cloud tools instead of more-expensive ones, suggests Doerksen. For example, his team uses free Google Docs spreadsheets as a basic CRM system, rather than springing for a paid CRM cloud service.
• Evaluate more than one service before deciding. Most services offer a free trial, and "you can usually figure out in 10 minutes whether the service's user interface will drive you mad or is easy to use," says Rosenfeld.
• Consider open-source cloud services. This arrangement encourages third-party developers to build add-ons that make a cloud-based service even more feature-rich. Plus, it allows you to create your own tools for using the service that are unique to your business.
• Don't be afraid. It makes sense to cautiously approach any big change in how you do business, and this certainly applies to moving to the cloud. But many feel that the business world is already making the transition to cloud computing, and–given the lousy economy–now is a good time to make the transition.
"I can't think of any company that shouldn't try it," says Doerksen. "If you don't, you're missing out on an opportunity to prepare your business for the future."
James A. Martin is a PCWorld contributing editor and a coauthor of Getting Organized in the Google Era (Broadway Books).