My buddy Doug had a problem with his laptop: After putting it to sleep (i.e. into Standby mode), he'd come back awhile later to find it wide awake.
There are countless culprits for this kind of behavior: an accidental swipe of the mouse, a scheduled system task, and any number of other weird settings that reside in Windows' power options.
Doug spent considerable time poring through those options, trying to pin down the system's insomia, but none of the sleep or hibernate settings seemed to remedy the situation.
As it happens, there's another place to look: the settings for the Ethernet adapter. (Doug's machine was plugged directly into his router). One setting in particular; see if it doesn't resolve the same issue on your PC:
1. Open the Windows Device Manager.
2. Click the plus next to Network adapters, then find the Ethernet adapter for your system. (On my system, it's called Broadcom Netlink Gigabit Ethernet.)
3. Right-click the adapter name and choose Properties.
4. Click the Power Management tab, then clear the checkbox next to Allow this device to wake the computer.
5. Click OK, then restart the computer.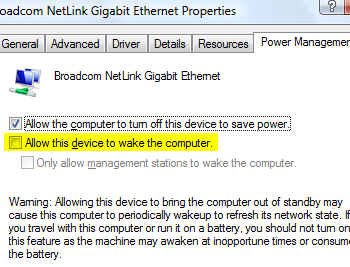 That may or may not solve the problem, but it definitely did the trick for Doug. As it turned out, any kind of Internet access–either inbound or outbound–was causing the system to wake from Standby mode. But by disabling the Ethernet adapter's support for that capability, the system should stay asleep.