Intel and Micron have reached a new breakthrough in NAND flash production. The 25nm NAND flash process will enable the manufacturers to double current flash memory capacity, or squeeze the same memory into half the space, enabling advances in storage capacity for the devices that business professionals rely on.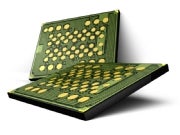 A joint statement from Intel and Micron says "Manufactured by IM Flash Technologies (IMFT), Intel and Micron's NAND flash joint venture, the 25nm process produces 8 gigabytes (GB) of storage in a single NAND device, creating a high-capacity storage solution for today's tiny consumer gadgets. It measures just 167mm2 — small enough to fit through the hole in the middle of a compact disc (CD), yet packs more than 10 times the data capacity of that CD (a standard CD holds 700 megabytes of data)."
What does that mean in English? The 25nm process cuts the required chip count in half compared with previous generations of NAND flash technology. That means that OEM manufacturers can create a 256GB SSD (solid state drive) with only 32 flash dies instead of 64.
This advance in flash memory technology benefits business users in one of a few ways. First, the smaller flash memory dies will enable smartphones like the iPhone or Nexus One to double the onboard memory capacity without increasing the size of the device.
Smartphones, or the next-generation smartphones dubbed "superphones" by Google, are increasingly blurring the line between mobile phone and portable computer. Business users rely on smartphones for e-mail, calendar scheduling, contact management, and even working with documents, spreadsheets, and presentations, so increasing the amount of space available for data storage is beneficial.
Tablet PC's like the devices announced from Freescale or HP, or the recently unveiled Apple iPad, rely on NAND flash memory to provide persistent storage (storage that retains its data even while powered off) in a small, thin form factor. The advance in NAND flash technology by Intel and Micron will enable manufacturers to double the storage capacity of tablet PC's.
The second potential benefit is that manufacturers can create even smaller devices with higher memory capacities. The reverse of saying that a smartphone could house double the memory in the same space is that manufacturers could create a smartphone half the size of the current generation with the same storage capacity.
The new flash technology will also enable SSD manufacturers to create even smaller SSD drives for smaller, lighter netbooks and smartbooks, or double the storage capacity of current SSD drive form factors to provide more robust netbooks and smartbooks.
The new process cuts the manufacturing costs per gigabyte of flash memory, so we could conceivably see a drop in price for devices that rely on flash memory. However, it seems more likely–for the short term at least–that manufacturers will simply absorb the cheaper manufacturing costs as higher profit margins and increase their own bottom line.
What does it all mean? It means that businesses can expect to see storage capacity on small, portable computing devices double, or find even smaller, thinner devices with storage capacity equivalent to current technology. Eventually it will yield lower prices as well, but as long as manufacturers can get away with the higher prices and larger profit margins, they will.
Intel and Micron are currently sampling 8Gb chips based on the 25nm technology. Mass production and general availability of storage based on the new technology is not expected until late 2010.
Tony Bradley tweets as @Tony_BradleyPCW , and can be contacted at his Facebook page.