With photos, videos, and music files clogging up your hard disk, it's harder than ever to keep it clean, trim, and free of duplicates. Use freebie Fast Duplicate File Finder, though, and you'll be able to find duplicate files with ease, and keep your hard disk in tip-top shape.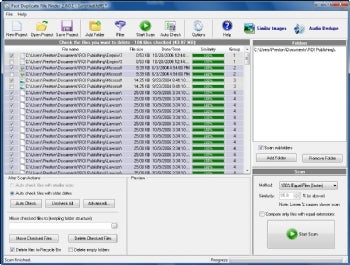 Fast Duplicate File Finder doesn't merely compare file names or file sizes; it does a file comparison at the binary level. This is particularly important when looking for music, video, and other media files, because you may have files with two different names, which are otherwise identical. It's got plenty of nice-to-have features, such as determining whether to delete duplicates or move them to the Recycle Bin or a custom folder; the ability to preview files before deleting them; and support for removable media such as USB drives.
Fast Duplicate File finder is simple to use, goes about its work quickly, and it's free. It's this simple: If you're looking to trim your hard disk by deleting duplicate files, it won't lead you wrong.