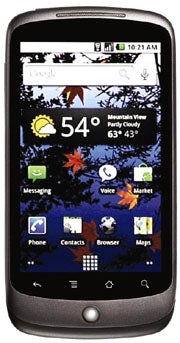 Multitouch support is officially on the way to Google's Nexus One Android phone. Google announced an over-the-air update Tuesday afternoon that'll deliver native multitouch functionality along with a handful of other software improvements and fixes.
Nexus One Gains Multitouch
The Nexus One update, set to start hitting devices as soon as today, will bring multitouch-driven pinch-to-zoom functionality throughout the phone's interface. According to Google, multitouch will be available in the phone's stock browser, photo gallery, and Google Maps applications.
Previously, the lack of native multitouch support had been criticized as one of the main weaknesses of the Nexus One and other Android phones. Google has not yet said if or when the multitouch-enabling update will reach other Android devices.
Nexus One: Other Changes
In addition to the multitouch addition, the Nexus One update will provide a fix for the 3G connectivity problems some users have been reporting. It will also include a preinstalled version of the Google Goggles Android application as well as an updated version of the Google Maps app.
Google Maps 3.4 will allow you to synchronize favorites between your phone and PC, search suggestions from your Web-based Google Maps history, and take advantage of a new night mode for Google Maps Navigation. The night mode automatically adjusts your screen for optimal viewing during nighttime hours.
As of the time of this publication, Google Maps 3.4 has yet to become generally available within the Android Market.
The Nexus One software update will be rolled out to users over the next several days. If you own the Nexus One, you'll receive a notification when your update is ready to install.
JR Raphael frequently covers mobile technology for both PCWorld and eSarcasm, his geek-humor getaway. You can keep up with him on Twitter: @jr_raphael.