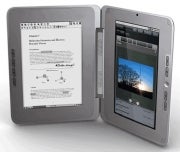 Software developer ScrollMotion has been tapped to develop iPad-friendly versions of textbooks for education publishers like McGraw Hill, Houghton Mifflin, and Kaplan. Features that may make it into the iPad textbooks include video, interactive quizzes, the ability to record lectures, highlight and search text, and take notes, according to The Wall Street Journal. ScrollMotion announced a similar deal to bring textbooks to the iPhone and iPod Touch during Apple's Worldwide Developers Conference in June of last year.
Which Textbook Reader Will Win?
While the hype surrounding the iPad has sparked speculation about the device's place in the future of education, there are competing devices focused on education including some newly announced e-readers and hybrid devices. Amazon is reportedly attempting to make inroads with its Kindle DX. However, Amazon's e-reader is a little disadvantaged against the iPad since the Kindle's e-ink screen can only display text and pictures, as opposed to integrating animations and video like the iPad.
But there are other interesting options like the dual-screen enTourage eDge, which has also entered into deals with publishers to create digital textbooks. The eDge has a 9.7-inch e-ink screen on one side for reading, and a 10.1-inch LCD screen that accepts stylus inputs for handwriting (something the iPad lacks). The eDge sells for $490 and enTourage says the device will start shipping in March. The biggest downside for this device, however is its weight: the eDge weighs in at 2.75 pounds versus the iPad's slimmer profile at 1.5 pounds.
Will iPad Textbooks Clash with Student Culture?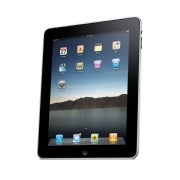 Digital textbooks are nothing new, in addition to ScrollMotion other companies like CourseSmart are producing textbooks for PCs and mobile devices. But larger one-screen devices like the iPad may be the ideal solution for digital textbooks, and sound like they could be a boon for students: no more throwing your back out from lugging around heavy textbooks every semester, and a digital textbook boasts added value with features like video and searchable text. But the essential question for e-textbooks may come down to price and DRM-style restrictions.
If all the extra features of the digital versions keep textbook prices the same, there may not be much of an incentive for students to purchase digital applications instead of paper books. One thing that could win students over, however, would be the ability to transfer or resell their textbooks after they finish a semester or school year.
Students are not a wealthy group of people, and textbook costs are one of the largest school-related expenses after tuition. To recoup some of those costs, many students resell their old books at a lower cost to incoming students who don't mind purchasing used or slightly outdated material. But it's unlikely publishers would allow students to resell digital textbooks, so I have to wonder whether this will be a sticking point that keeps some would-be iPad users away.
So what about it students? Would you go for an iPad textbook even if it meant prices would stay the same?
Connect with Ian on Twitter (@ianpaul).