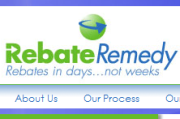 Mail-in rebates are a great way to score major discounts on products you want, but they have a (some would say deservedly) bad reputation.
Sometimes you make a mistake on one of the forms and the rebate check never comes. Sometimes you do everything exactly right and the rebate never comes. Or the rebate finally arrives, but only after months of waiting.
RebateRemedy promises to expedite the rebate process. You send your filled-out forms to the service, they cut you a check (or credit your PayPal account) in a matter of days.
What's the catch? Well, you can't get something for nothing: RebateRemedy takes a percentage of your rebate (20-30% to be exact, depending on the value), plus a $2.50 processing fee.
Thus, if you're dealing with, say, a $50 rebate, $12.50 + $2.50 goes to RebateRemedy, leaving you with $35. But that's $35 you get in days, not months. What's more, if the service discovers any issues (like a forgotten UPC code or incomplete form) that would normally interfere with your rebate, they'll contact you so you can make the necessary corrections.
Just make sure you send them your paperwork at least 10 days prior to the rebate expiration date, otherwise they won't have time to process it.
I haven't tried RebateRemedy yet, and I'm not sure I'd bother with it for a rebate of less than, say, $20, but as someone who frequently grabs at dangled rebate carrots, I definitely like the idea.